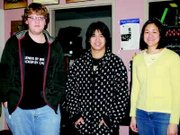 Sunnyside High School students attend statewide honor band event in Seattle by Jennie McGhan
SEATTLE - Two of Sunnyside High School's prominent band members, Andrew Myers and Tony Louie, were selected to attend an honor band event at Seattle's Pacific Lutheran University.
The event, held last Friday and Saturday, involved the students learning four musical pieces in less than 24 hours. One selected piece was directed by its composer and three other numbers were directed by a music instructor and director from Texas Tech.
Louie is a clarinet player and said the performers arrived in Seattle Friday morning. Upon their arrival, each of the students were immersed in practice.
"There really wasn't a lot of time to see the sights," said Myers, a tenor saxophone player.
The students practiced the four musical pieces to be performed at two Saturday concerts until 2:30 p.m. the day following their arrival.
Both Myers and Louie agreed the experience was amazing.
"Being able to be in a band that included a larger variety of instruments than we have at SHS was interesting," said Myers.
Louie added, "I enjoyed hearing and being around musicians considered elite and who were high caliber for their chosen instruments."
The pair said they feel it was a privilege to participate in the honor band and as seniors they hope future Sunnyside High School band students will be afforded the same opportunity.