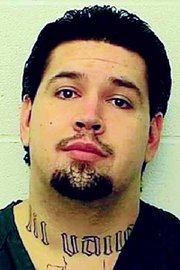 YAKIMA - A 20-year-old Sunnyside man will most likely spend at least five years in prison after being found guilty yesterday in a Yakima court of three felonies and one gross misdemeanor.
Jimmy Merced Allen was found guilty of unlawful possession of a firearm in the first degree, burglary in the first degree, theft of a firearm and reckless endangerment.
The convictions stem from a Sept. 5, 2008 incident in Sunnyside that left 16-year-old Juan Ramos dead.
Police say Allen broke into a Prosser reserve police officer's house in Sunnyside and stole a Glock 9mm on Sept. 5. Later that day, Allen, Luis Garcia and Juan Ramos drove to South 15th Street and Ramos got out of the vehicle.
Ramos began walking down the street and eventually started shooting at a group of rival gang members. During the exchange of gunfire Ramos was shot in the chest and died a little later at Sunnyside Community Hospital.
The reckless endangerment charge Allen was convicted on stems from him being in the car that drove Ramos to South 15th Street.
Sunnyside Police Detective Jim Ortiz said his department presented to the court what they had and that he was happy with the outcome.
He said someone had to answer for the incident that left a young kid dead.
A sentencing date has yet to be set for Allen but Ortiz said that with the gun enhancement conviction Allen will be looking at a mandatory five years in prison on that alone.