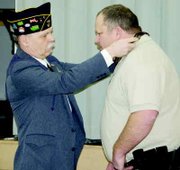 GRANDVIEW - Grandview American Legion Post 57 honored Hanford K-9 officer Charles E. Nelson with the Law Enforcement Officer of the Year award and the Heroism Gold Medal at a belated Veterans Day dinner this past Saturday night.
Grandview Post Commander Robert Gates hailed Nelson as a hero for his efforts to save an accident victim who had been trapped in a burning car this past July.
"(As he approached) he saw bystanders pouring water on the victim's back," Gates said. "But then the fire reignited."
Gates said that when Nelson saw the fire, he climbed through the wrecked vehicle's passenger side door and extracted the victim. Later, Gates said, Nelson was taken to the hospital for injuries incurred during the rescue.
At Saturday night's dinner, Nelson was honored alongside his canine partner, Cargo.
The Grandview American Legion Post will now nominate Nelson to be honored with the officer of the year title at the state level.