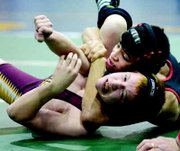 HOQUIAM - Ten Sunnyside High School wrestlers placed at this past Saturday's 14-team wrestling tournament in Hoquiam, earning the Grizzlies a first place finish at the event.
Sunnyside finished with 212 points, well ahead of second place finisher Klahowya, with 156 points.
Sunnyside fielded three individual champions, starting with undefeated Steven Romero (112 lbs.)
Romero pushed his record to 28-0 on the season by going 4-0 at the tournament. After a first round bye Romero beat Cabe Arias of Hoquiam 16-0. In the semi-finals Romero decisioned R.A. Long High School's Josh Johnson 13-1 to set up a finals match with Brett Fioretli of Hoquiam.
Romero scored a 15-0 technical fall against Fioretli in the second round for the win. For Romero's performance he was named outstanding wrestler of the tournament for weights between 103 and 140 lbs.
The second champion for Sunnyside on the day was Shawn Olivarez (135 lbs.). He went 4-0 on the day starting with a first round bye.
In the second round he blanked R.A. Long High School's Alex Bird 6-0. Olivarez then pinned Chris Gray of Steilicoom in 3:43 to set up a final with Klahowya's Ammon Jensen, the number one seed in the 135-lb. weight class.
Olivarez handled Jensen and beat him 9-4.
The third Sunnyside champion was David Huizar (160 lbs.). After a first round bye Huizar beat Fife's Alex Rohrer by a pin in 25 seconds. This set up a semi-final match with Scott Wolfe of Capital High School, with Huizar scoring a 21-5 technical fall to get into the finals.
There he beat number two seed Myron Smith of Willapa High School, 12-6.
The Grizzlies had two wrestlers place second place at the tournament.
Christian Reyes (103 lbs.) went 3-1 for Sunnyside to earn second place honors. After receiving a first round bye Reyes beat Cutter Grahn of Forks High School 29-16. He then beat Tyler Cortani, also of Forks High School, 16-6 to set up a final with Elma High School's Brad Watson. He lost 10-5 to Watson, who is ranked number one in the state in 2A schools at the 103-lb. weight class.
Leroy Rodelo also went 3-1 for Sunnyside and earned himself a second place finish.
He had a first round bye and then beat Fife's Ken Knutson 11-2. Rodelo then beat Montesano's Dillion Ford 4-3 to set up a finals match with Klahowya's Nick Sell. In this match Rodelo lost to Sell by a pin in 3:43.
Both Nick Martinez (130 lbs.) and George Chavez (285 lbs.) earned third place finishes for the Grizzlies. Martinez finished with a 3-1 record and Chavez recorded four wins and one loss.
Sunnyside's David Vidales (119 lbs.) and Juan Barajas (125 lbs.) both finished in fourth place with 3-2 records. Adrian Ramirez (189 lbs.) gave Sunnyside a sixth place finish with a 3-2 record.
"Ten placers out of 14, that's pretty good," Sunnyside Coach George Paulus said.
The Grizzlies were second at this same tournament last year, finishing only behind the Japanese National team. The Grizzlies varsity squad will next take on the Kennewick Lions in Kennewick this Thursday, Jan. 22, at 7 p.m.
The Sunnyside High School junior varsity squad competed at the Mabton Invite this past Saturday, taking third place with 163 points behind first place Mabton and second place Naches.
The Grizzlies fielded one champion, Nathan Gonzalez (103 lbs.). Gonzalez finished the day 3-0.
Four Grizzlies earned second place honors at the Mabton tournament with 2-1 records. They were Isidro Ramirez (125 lbs.), Trevor Gaskin (135 lbs.), Andy Cantu (145 lbs.) and Caleb Gomez (152 lbs.).
Four Grizzly wrestlers finished in third place as well. They were Gerardo Villalobos (112 lbs.), Alex Isiordia (189 lbs.), Isaac Meza (125 lbs.) and Emmanuel Tejeda (130 lbs.).