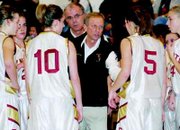 Wins over Yakama Tribal and Klickitat this past weekend have made the Sunnyside Christian Lady Knights the favorite to capture this year's five-team Greater Columbia 1B League crown.
Sunnyside Christian, on its home court, stormed past the Tribal Eagles by an 80-14 margin last Friday night, then trekked to Klickitat on Saturday and came away with a sloppy 50-30 win. The two victories, coupled with a relatively easy 58-21 decision over Bickleton back on Jan. 9, improved the Lady Knights' conference record to 3-0, 7-2 overall.
The Lady Knights will complete their first swing through league play when the travel to Trout Lake/Glenwood this coming Friday night. Sunnyside Christian will then have return engagements against its four league foes the second half of the regular season.
In taking on Yakama Tribal last Friday, the Lady Knights were never challenged in posting the 80-14 win over the visiting Eagles.
"Unfortunately, Yakama Tribal isn't very competitive this season," said SCHS Coach Al Smeenk, who only had his girls press the Eagles for the first four minutes of the game before calling off the defensive pressure and going with straight man coverage.
In an effort to keep the score from being even more lopsided, Smeenk went to his bench both early and often. "All of our girls got to play pretty much half the game," he said, which resulted in all of the Lady Knights making it into the scoring column.
Three Sunnyside Christian players ended up in double digits, scoring-wise. Senior Melanie Van Wingerden led the way with 21 points, followed by juniors Hilari Bosma and Joleen Van Wingerden with 17 and 10 points, respectively.
Yakama Tribal's top scorer was Jordan Metsker. She tallied eight of Tribal's 14 points.
Rebounding leaders against Yakama Tribal, which went the Lady Knights' way by a huge 42 to 16 margin, included the elder Van Wingerden with a game-high 12 boards, Kelly Newhouse with seven rebounds, and six apiece by the younger Van Wingerden and Makaela Duim.
Saturday at Klickitat, despite coming away with a 50-30 victory, Smeenk left the Vandals gymnasium unsatisfied.
"We wanted to make a statement Saturday, and I don't think we did," he said.
"We weren't ready to go. I don't know if it was the long bus ride or what, but we didn't play well."
Smeenk was especially unhappy with his club's shooting touch, as his Lady Knights shot at just a 30 percent clip from the field (23-for-71). From the free throw line, the Lady Knights were a miserable 0-for-6.
"We really struggled in shooting the ball," he said. The saving grace for Smeenk's team that night was second chance opportunities, as Sunnyside Christian came away with 17 offensive rebounds.
All told on the glass, the Lady Knights outboarded Klickitat by a 33 to 27 margin. Newhouse grabbed a team-high 13 rebounds for Sunnyside Christian.
It also didn't hurt any that Klickitat really has only two threats this season...Samantha Brewer and Kelly Farger. Brewer got loose for 15 points, but Farger was held in check, finishing with just three points.
The one Sunnyside Christian player who did bring her game to the Klickitat gym was 5'2" junior Julie Long. She exploded for a team-high 15 points, more than 10 points above her scoring average.
Smeenk said Long, a small package with TNT-type energy, is capable of those types of scoring bursts. "She's like the Energizer bunny," quipped Smeenk. "She can really turn it on at times."
Sunnyside Christian is scheduled to host the DeSales Irish for a non-league tilt this coming Tuesday, before resuming league play this Friday at Trout Lake/Glenwood.