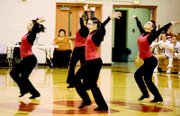 Several dance teams converged at Sunnyside High School this past Saturday for a Grizzliette-hosted dance and drill competition.
All told, nine teams competed in hip-hop, pom, kick, dance, drill and prop production categories.
This year's Sunnyside-hosted event drew more competitors than last year. That's because last year's event was held in November.
"Having it in January increased participation because teams usually have their routines ready to bring to competition," explained Melodie Griffin, competition director and SHS dance coach.
The event gave the dance teams a shot at earning enough points to go to Districts in different categories. As a result of Saturday's competition, Sunnyside's Grizzliettes will compete in the hip-hop category at Districts.
Griffin said earning points to go to Districts is the impetus for teams to compete. "The trophies are great to have, but it's more about qualifying for District (competition)."
The Grizzliettes have been practicing their hip-hop routine for two months. But they've only been practicing their dance routine for two weeks.
"We decided to go in the dance category at the last minute," Griffin said, adding that many of the Grizzliettes have learned dance through Martin's School of Dance in Sunnyside. "I encouraged the girls to develop a routine based on their years of experience and technique from Martin's School of Dance."
The Grizzliettes ended up taking first place honors Saturday in the dance category.
It was a big day for Moses Lake and Pasco. Moses Lake took first place in the drill and hip-hop categories and second place in the pom category. Pasco placed first in pom and second in hip-hop. West Valley took top honors in prop production and the kick category. Sunnyside's Kelly Bridges took first place in the advance drill down competition.
The Grizzliettes have two more competitions coming up. The first is slated for Feb. 7 at Kamiakin and the second is slated for Feb. 21 in Pasco.
Of Saturday's competition, Griffin said, "We had a great crowd. Sunnyside really came out and supported us...it was bigger than I expected."
Griffin waited until all was said and done, and the gymnasium cleaned up, before sharing the news that her team earned enough points to go on to District competition in the hip-hop category.
"Their loud screams could be heard echoing through the hallway because they knew their hard work paid off," Griffin said.