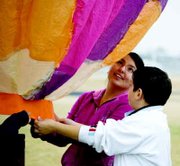 Budding scientists at Sierra Vista Middle School got an interesting lesson in the dynamics of hot and cold air this past Friday when they were able to launch handcrafted tape and tissue paper hot air balloons.
"The more ways you can make learning fun, the more (the students) remember about these concepts," said science teacher Jeff Gunvaldson.
Sierra Vista seventh graders in Gunvaldson and Emma Byman's classes have been studying a unit on catastrophic events, including weather, air movement and water currents.
This past Friday, the students launched three tissue paper balloons into the air, reaching heights between 70 to 100 feet.
Gunvaldson is actually used to seeing the balloons go even higher. That's because in the past, he's taught this particular unit in the spring. "They get much higher because of the updrafts in spring," he explained.
Gunvaldson said the students constructed the balloons in a matter of days and they aren't very hardy. "Tissue paper can only last so long," he said. "The tissue paper, I've found, is the best medium. It's lightweight and gets the balloon higher in the air."
On Friday, the most flights out of one balloon was six before it finally began to fall apart.
Gunvaldson borrowed a smudge pot from a farmer to heat the tissue paper creations.
Of the lesson, Gunvaldson said, "It's an experience in convection air and it gives kids a hands on experience that illustrates that principle."
It wasn't just a science lesson. Math students joined into the fray, using mathematical principles to gauge the balloons' height.
More balloons took flight earlier today, Tuesday, at the middle school. In fact, students that had not yet completely crafted their balloons were clamoring to stay after school Friday to finish them.