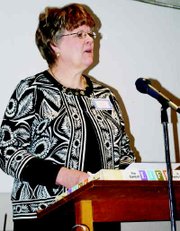 PROSSER - When Kristi Roberts, guest speaker at yesterday's Lower Valley Christian Women's Club meeting, was a youngster in Bickleton, her family enjoyed playing games. One of her favorites was the game "Life."
She enjoyed the challenges of gaining an education, getting married, having children and earning money for the purpose of winning that game.
"There is even a day of reckoning," Roberts explained, stating the game is sometimes like reality.
She told the Christian women she felt as though she had been given a good life when she was growing up. Her family was not wealthy, but it was happy. She learned to do chores and appreciated the way her parents raised her. "Sunday School was not an option...I have the perfect attendance pins to prove it," Roberts joked, stating she learned a life of faith due to her upbringing.
When she was a teenager, Roberts learned about Jesus' desire to have a personal relationship with her and she made the decision to allow that relationship.
"But, sin takes us off the road of life," she explained, stating her biggest struggles came out of pride. Although Roberts had come to accept a personal relationship with Christ, she relied upon herself and had trouble admitting a need for help in a variety of circumstances.
The difficult moments began when she went to Washington State University to pursue her nursing degree.
Roberts said she found her classes were challenging, her professors disturbing and taking time away from it all was tempting. She traveled to Moscow, Idaho on a regular basis "...because the drinking age was younger."
Although she managed to graduate from college and begin her career as a nurse in Spokane, Roberts said she stopped going to church and reading her Bible. She said she continued to frequent bars and pull away from a life of faith-based decisions.
After taking time off from her career to travel the U.S. with a friend, she returned to Spokane and became a victim of a violent crime.
To heal from the experience, Roberts found herself living at home in Bickleton and a romance that had been long distance prior to the crime bloomed.
"I learned to turn back to the road I had been on," she said, stating she began reading "the Lord's driving manual."
Roberts married the man with whom she had been falling in love, Jack. The couple had two children, a girl and a boy.
"Then we experienced our first pothole," she said, stating her husband began exhibiting the signs of a drinking problem. She chose not to drink because of the responsibilities to her children.
"Alcohol became the center of our lives," Roberts explained, stating she worried about her husband's drinking problem.
Another "pothole" presented itself when the couple learned their daughter was developmentally delayed.
Roberts said her spiritual life, however, was growing. As she became involved with her children's Sunday School program and attended Alanon meetings, she learned to pray for guidance. She prayed God would help her let go of the worry associated with her husband's alcoholism.
"I was back on a good road that brought a sense of confidence and a feeling of doing well," said Roberts.
She said her daughter's disability caused some of her dreams to subside, but she chose to enjoy and accept her daughter for who she was.
Another revelation regarding her daughter presented itself. Roberts' family learned the young woman suffered from a bi-polar disorder.
"Only God could have brought me through that," said Roberts, stating the disorder caused her daughter to become very ill. Her daughter wouldn't let her sleep many nights.
After finding help for their daughter, the Roberts began another battle with life. Jack had been diagnosed with cancer in his lower back. He underwent nine months of chemotherapy.
While fighting the disease, Roberts' husband came to the realization that he needed the Lord in his life. That was just a few short days before he died.
"Each trip we take in life needs Jesus in the driver's seat," she explained, stating she was encouraged that her husband had taken the step that put him back on the right road before he died.
Roberts said the road of life contains many unplanned turns, adding if we choose God's road over our own, we can enjoy the many trips along the road that much more.