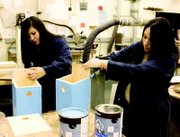 MABTON - Sometimes learning a new subject isn't just about opening a book and studying. Sometimes it takes a practical, hands-on approach to truly grasp the concept.
Students in Ron Carpenter's applied math class in the vocational building at Mabton High School are using this approach by building birdhouses to learn math.
"I wanted a community based project where there is a lot of math involved," Carpenter said.
Since Carpenter has a soft spot for the small enclave of Bickleton, the so-called bluebird capital of the world, Carpenter said he felt having his students build birdhouses would help them learn math.
The class meets for three hours a day, four days a week, and spends at least an hour and a half each day studying in the classroom. The rest of the time is spent working on projects, such as building birdhouses.
Carpenter said the students use math to figure out how much board feet each birdhouse requires. They also solve problems such as how much paint to buy, how much it will cost and things like the volume of each birdhouse.
The students are building approximately 30 birdhouses to add to the Bickleton landscape. Each student made a practice birdhouse before the project started, using scraps of lumber.
"The students made their mistakes on the practice ones," Carpenter said. "I wanted the Bickleton birdhouses to be real nice."
The students were able to keep their practice birdhouses and take them home.
Carpenter said he will deliver the birdhouses in four to six weeks.
It's not just building birdhouses that the students do. Carpenter said his students have designed their own houses using a computer program. The students use math to figure out their square footage and designs. They use these numbers when deciding how big the accessories can be to put into the house.
"They had to paint their houses and roof them," he said. "They use a lot of math to do these things.
"I try to use every day events to teach math," he said. "I call it 'real world' math."