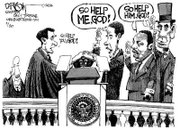 GRANGER - A year of centennial celebrations was kicked off last night by the city of Granger with an historic preservation open house at the Scout cabin.
The cabin is more than 60 years old and, as the name suggests, was used for scouting. Granger Public Works Director Jack Burnes remembers as a boy having Cub Scout meetings in the cabin.
He told the standing-room only crowd that efforts to preserve and enhance the cabin into a historical marker and museum are due to the generosity of the Bell family.
Improvements to the cabin this year include siding and a sidewalk pathway connecting it to the nearby city hall building.
Burnes said work is just getting underway to display historical items in the cabin.
"We want to get you as excited about this as we are," he said. "Granger has a rich history and it's something we can all be proud of."
The momentum for last night's gathering is Granger's celebration of its centennial this year, as the city was incorporated on Sept. 20, 1909.
Mayor Ramona Fonseca called the city a "diamond in the rough."
Jim Bell, whose mother bequeathed the money for the cabin improvements, said the last community gathering he could remember at the cabin was back in 1958.
"Only Granger would celebrate its 49th birthday," Bell chuckled. He said that birthday was marked as a pioneer "49'er celebration" in which the city held a beard growing contest.
The contest came in handy as MGM's movie; "The Hanging Tree," was filming nearby and needed several men in beards. "There are a great number of Granger men in that movie," Bell said.
Also featured last night was the unveiling of a special centennial flag. The flag creation was the result of a city contest, with Vicente Castro submitting the winning entry.
Bell agreed with the mayor that Granger is indeed a "diamond." He smiled and countered, though, that "it's not too rough."
Beyond last night's event, the city is planning future centennial activities. Under consideration are activities such as a pioneer parade or a community barbecue.