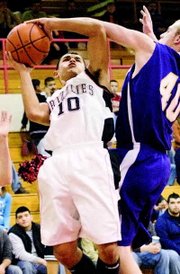 A five-minute scoring drought in the third quarter proved too much to overcome as the Sunnyside Grizzly boys basketball team lost 47-36 at home last night to Wenatchee.
The Tuesday evening contest started out promising enough, as Sunnyside grabbed an 11-10 lead after one quarter and a 21-18 edge at the half.
"We were pressing them, got some steals, forcing them to take a lot of time moving up the court," Sunnyside Coach Ron Rowe said of his team's solid start. "We were anticipating well and taking them out of their half-court game."
That was followed by a hoops ice age in the third quarter, as Sunnyside didn't get its first score until the three-minute mark.
"We came out cold in the third quarter," said Rowe. "We had a number of good looks but they didn't drop."
Rowe praised his team for keeping the contest close, though, as despite the scoring drought Sunnyside was still within 32-28 heading into the final quarter.
Things remained nip and tuck from there as with four minutes to play the visiting Panthers still only led by five points.
Wenatchee finally got some distance late in the game, connecting on 5-of-6 free throws over the last two minutes.
Sunnyside (4-2, 6-5) was led by Alfredo De La Barrera's 18 points.
Kyle Leija and Israel Manzo each had four rebounds to lead the Grizzlies in the paint. Jordan Esqueda helped the Sunnyside cause with a team-high four assists.
Though a loss, Rowe was pleased with the way his team competed against the taller Panthers, who have four players at 6-4 and taller.
"Challenged them defensively, but we just weren't able to get an extra bucket or two when we needed it," the coach said.
The defeat marked Sunnyside's second consecutive loss in league play after a 4-0 start.
The Grizzlies will try to get back on the winning track when they travel to Davis this coming Friday and host Moses Lake on Saturday.