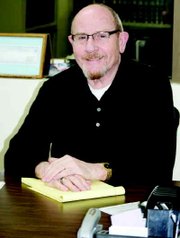 At long last, Grandview's Jack Maxwell is starting to take it easy. The longtime Lower Valley attorney is slowly ebbing into semi-retirement.
It seems as though Maxwell has, at some point or another, represented most of the towns in the Lower Valley. He's been Grandview's city attorney for 29 years, he represented Mabton up until recently, works as a Toppenish municipal judge and, he adds with a smile, "I represent Harrah when they need me."
During a typical week, Maxwell works in Toppenish's municipal court on Monday and Wednesday afternoons, and handles arraignments for those in custody on Fridays. He prosecutes on behalf of Grandview on Monday and Wednesday afternoons. Come the first and third Monday evenings of every month, he attends Grandview Council meetings. And, up until recently, he represented Mabton every second and fourth Tuesday evening of the month. In the meantime, he had his own private practice up until this year.
When asked if he ever felt like he couldn't figure out if he was catching himself coming or going, he responded, "I used to. It's slowing down a little bit. After years and years of working 60 to 80 hours a week, it's nice to work 40 hours again." He pauses a moment, smiles, and adds, "Or less."
Maxwell, who originally hales from Spokane, moved to Grandview 33 years ago and went into partnership with Gordon Bleschsmidt and Art Bingman.
"I did a little bit of everything," says Maxwell. "A lot of real estate, estates, general business litigation...being in a small town, you take just about anything that comes through the door," he joked.
It was the first of this month that Maxwell hung the hat up on his private practice, a move that has been in motion for quite some time. He sold his office and apartment on West Second Street in April, then rented the building from the new owner until Dec. 31. Now, he's located in, of all places, the basement of Grandview City Hall.
"It's quiet," he says of his new digs. "I don't get many visitors down here." After a pause, he adds, "It's a good place to get work done."
Although he's slowing down, he hasn't pinned down an exact retirement date. "In the next year or two...I haven't decided exactly when, but probably the end of the year, when I can still walk and talk," he quipped.
Maxwell's seen many changes in Grandview over the past 20-plus years. "The advent of gangs is the biggest thing."
He reflects for a moment and adds quietyly, "It was a quiet little community when I first moved here."
Another big change is that when he started prosecuting for Grandview, he averaged 12 cases a week. "Now," he says, "We average about 70 cases."
So far, there are no big plans for retirement. In fact, he jokes, "I'll probably do nothing. Then I'll get involved in something, I don't know what. I don't really have any hobbies, I haven't had much time for hobbies." After a moment, he adds, "I do like carpentry."
To gather ideas for how to get involved, Maxwell need look no further than his own past. Maxwell was a longtime Rotarian, he even served as president of the Grandview club at one time. He's also served as past president of the Grandview Chamber of Commerce, served on the Mens Republican Club, and once served as Campfire Girls president.
Maxwell used to be an avid golfer, too, with a standing date among friends for every Friday evening.
"I may take up golf again," he says. After a pause, it appears as though the idea becomes more agreeable. "Yes, I probably will do a little bit of that."