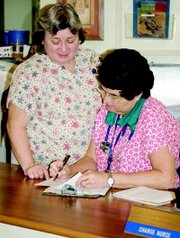 Little did Jenny Sanders know that when she began working at Hillcrest Manor 17 years ago as a certified nurse's aide she'd one day become the Director of Nursing.
That day has come. Sanders was promoted to the position in early December 2008.
Over the course of the past 17 years, Sanders has filled a myriad of roles at the Eden Alternative facility.
"I was working the floor as a CAN, was also trained as therapy assistant and then going to college to get my RN," said Sanders.
The road hasn't been easy. With two daughters in high school and a son in boot camp, her husband passed away in 1995.
Despite the hardships, Sanders was determined to go to college.
"I felt that he wanted me to do it," Sanders said of her husband. "I felt I needed to finish because he had supported me. (Finishing nursing school) was a goal we had as a married couple."
A lot's changed since she first walked through Hillcrest Manor doors.
"When I started here the walls were bare, stark," she said. "It was a red, shiny floor down the hallways, there were linen barrels in the halls. Patients were tied in their beds, tied in their wheelchairs."
It was those initial images that compelled Sanders to study geriatric nursing.
"I wanted to help them retain as much of their (individual selves) as possible so we could learn more about them," she said.
It was heartbreaking for Sanders to see lonely elders who appeared to be forgotten. "I'll never forget, one Christmas Eve we had a resident (check in to the facility) and not a single family member was there. Not a single one," she said. "And it would go on like that. People, families, wouldn't come for months. Months. It just hurt me, these people who had been in the community and done so much just...forgotten."
That's a stark contrast from today, she says. Matter of fact, so is the décor.
Hillcrest Manor has a warm and cozy, home-like atmosphere. The walls are painted in vivid colors, and chirping birds abound. There are a myriad of activities for elders and their families.
Sanders has been there every step of the way. "(Being an Eden facility) helps a person maintain who they are. It feels like a more comforting environment, less stressful for the residents."
Living at Hillcrest, she said, still affords elders the opportunity to be active members of society and there's peace and joy for Sanders in seeing elders still being active.
"It just brings you joy to know they still are who they are," she said.
In terms of her promotion to director of nursing, Sanders said, "It's been a good transition, it's been a steadiness for the staff."