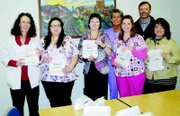 This past Tuesday, Jeff Barrom of Argus Insurance presented Sunnyside School District nurses with safety sacks to help students with life threatening illnesses keep track of emergency medications better.
Pioneer Elementary School Nurse Debbie Kawakami said there are a number of students within the district who need to carry epi pens, rescue inhalers and other life saving medications with them.
She said each school nurse has rescue medications stored within the confines of the nurse's office, but many students with illnesses, such as asthma or severe allergies, carry medications inside backpacks because the bags go with them wherever the student travels.
"Many of our students are self-caring, but this is one more step of safety for them," Kawakami said, stating the safety sacks are a nylon bag that can be attached inside a student's backpack. The sacks are difficult for other students to access and keep the medication conveniently located for the student who uses the sack.
"It prevents the student from dumping the medications out when emptying a backpack," she stated.
Argus was able to purchase 10 safety sacks per school at $5 each. Kawakami said the district's safety committee was unable to secure a grant for the sacks, but Barrom is on the committee and saw the benefit the sacks would provide students of Sunnyside. He stepped up and purchased them to help the students.
She said students must have authorization from parents, physicians and the school nurse to check out a safety sack. The student will then be allowed its use for the duration of the school year.
For now, it has been decided students with the most life threatening conditions will be afforded the opportunity to check out a safety sack.
Kawakami said the students in Sunnyside School District who have health concerns already have written plans in place for the proper care and treatment if the need for medication arises. She feels the safety bags are just one more tool for student safety.
"We are just glad Jeff was able to provide us with the sacks," she said.