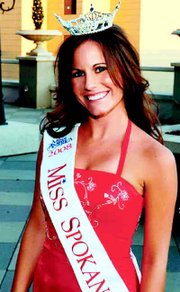 SPOKANE - With her reign coming to an end next month, Miss Spokane Allyssa Fennell, a 2004 Sunnyside Christian High School graduate, is excited to use the experiences she's had in the past year to broaden her future horizons.
"This past year has been amazing," Fennell said. "I had such a wonderful time representing Spokane."
Fennell, who is a student at Eastern Washington University in Cheney, said her job this past year was to represent the city of Spokane. She did this at various events throughout the community, volunteering her time when and where it was needed. She also represented the Miss Spokane Scholarship and Miss America Scholarship organizations.
Fennell's personal platform was the American Cancer Society's Relay for Life fundraiser, which she promoted by volunteering with the Lake Spokane Relay for Life. She said by working with Relay for Life she made some wonderful partnerships and plans on continuing them when her reign is over next month.
She co-chaired the American Cancer Society event and worked hard to educate people about the relay event and helped organize fundraisers. The experience she picked up helping with Relay for Life will serve her well with her planned career as an event planner, the communications major said.
She mentioned several highlights of the past year that she will cherish, such as being a part of the Lilac Festive in Spokane, visiting Sacred Heart Children's Hospital and helping to raise money for Children's Miracle Network.
She also met Miss Ukraine at a Russian Orthodox Church. Fennell was there to introduce Miss Ukraine and said she was a big inspiration to her.
"She was speaking about her Christian values and her experiences in the pageant world and as Miss Ukraine," Fennell said. "She never wanted to be involved in pageants, (but) did it by chance and she won. It taught me that anything is possible and that if you have something you are passionate about, share that with others."
Another highlight of Fennell's year as Miss Spokane was competing on the stage at the Miss Washington Pageant with 15 other contestants vying for the crown.
"I didn't do as well as I would have hoped at Miss Washington, but I had a wonderful time," she said. "I won the Confidence and Charisma award."
The Sunnyside native said in the past year she has learned that she is truly capable of more than she would have ever thought.
"I have learned to take the program's motto, 'always be flexible and gracious' to heart," she said. "It has been challenging and exciting and so much fun all at the same time. I know that I will take these experiences with me throughout my entire life and I know that the skills that I have learned over the year will help me as I finish school and pursue my career."
She listed interviewing, time-management, dealing with people and public speaking as the skills that will help her most.
"I believe that I have changed and grown as a person, but my heart will always be that of a server's heart, and I as a person, will always want to give back in any way that I possibly can."
Fennell will give up her crown when the 2009 Miss Spokane is crowned Sunday, Feb. 15. The program starts at 2 p.m. at Northern Quest Casino in Airway Heights. Tickets are still available and can be purchased at the door or at the Miss Spokane website, www.missspokane.net.