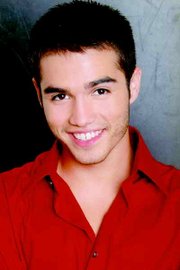 Former Sunnysider Tony Magana is taking a shot at fame with American Idol.
Following initial auditions in Phoenix, Ariz. in September 2008, the 2007 Sunnyside High School grad has advanced to another round of auditions in Hollywood.
"There are more auditions than people see on TV," Magana said.
When Magana auditioned in Arizona, it wasn't before the famous American Idol judges, but rather producers. "I ended up being there for six hours," he said.
Magana selected two songs: a country tune by Keith Urban called "Tonight I want to Cry" and an R&B song by Ne-Yo called "So Sick."
"They put me through, then I had to wait about a month. Then they (called me back) and I had to drive to Phoenix and audition for (different) producers," he said. "They liked me and told me they wanted me to come back."
Finally, he got to audition in front of American Idol judges Randy Jackson, the acerbic Simon Cowell and Kara DioGuardi. Idol judge Paula Abdul was late that day, he said.
How'd it go?
"Simon said he was really, really impressed with what I did, that I'm very commercial and he could tell I'm a likable person," Magana said.
Judge DioGuardi told Magana that she could hear his Broadway training creep into his performance (Magana just graduated from a two-year music/theater school).
Jackson was the hardest on Magana, telling him he sounds "boy-bandish." Said Magana, "He wanted to see if I'm right for a different genre...something else that maybe I haven't found yet."
Magana said Jackson and Cowell then began to go back and forth, talking as though Magana wasn't just standing a few feet away, with Cowell defending the performance.
Ultimately, Magana passed with the favor of all three judges and got his golden ticket to Hollywood, a place that Magana now calls home.
Ultimately, only 36 performers will be selected for this year's season.
Stay tuned to American Idol to see how Magana fares during yet another round of auditions in Hollywood and whether or not he makes the cut.