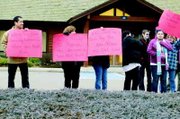 GRANGER - Approximately 40 people protested against the return of Police Chief Robert Perales outside City Hall in Granger yesterday afternoon.
The protesters, made up of men, women and children, held signs and chanted slogans against Perales.
The citizens are unhappy that an arbitrator ruled earlier this month that the firing of Perales by Granger Mayor Ramona Fonseca was unjustified.
Granger resident Maria Gonzalez was collecting signatures to present to Perales this morning (Friday) when he reported to work after being away for a little more than a year.
"He's not an honest person," she said. "It's not fair that he's coming back."
The protesters were urging the mayor to appeal the decision of the arbitrator, something Fonseca said just isn't practical.
The city doesn't have the money in the budget to appeal the decision, having spent approximately $20,000 already during Perales' appeal.
"Sometimes citizens don't have any other way to come forward and express how they feel about what things are going on," Fonseca said. "This is one way for them to express their feelings."
While Fonseca doesn't agree with the decision made by the arbitrator she said she is willing to put her best foot forward to form a working relationship with Perales.
In response to the protesters she had this to say.
"I am here and I have an open door policy," she said. "They have someone that will listen. They can call on me directly."
For Perales' part, he feels the past year has left him with a stigma that might take some to time to overcome.
"There are still a lot of people who believe the allegations made against me," he said. "What they have to realize is that we went through a process and I was found innocent of all allegations."
He said some people are still holding onto those accusations.
The protesters outside of City Hall yesterday say there is no way they will accept Perales as their police chief. For now, they have no choice.