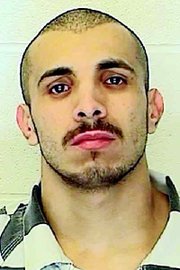 Sunnyside police arrested a Sunnyside man this past Wednesday in connection with a Jan. 3 slaying in Sunnyside.
With the help of Washington State Department of Corrections officers, Sunnyside police arrested 25-year-old Oscar Torres in the 1900 block of Nelson Road in Granger and taken to the Sunnyside City Jail.
Torres is charged with accomplice of murder in the second degree, two counts of assault in the first degree and two counts of assault in the second degree. He will be transferred to Yakima County Jail on Monday.
Police believe Torres was involved with a Jan. 3 shooting at AM/PM in Sunnyside. That shooting left 22-year-old Jesus Tlaseca Sosa of Sunnyside dead and a juvenile and 20-year-old Grandview man wounded.
Police say this incident was gang related.