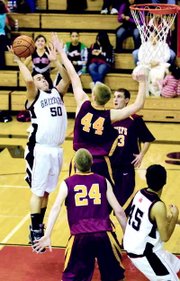 Close counts in horseshoes but unfortunately not in basketball as the Sunnyside boys hoops team came up just short in a pair of league losses this past weekend.
At Davis on Friday, Sunnyside (4-4, 6-7) rallied from an early deficit only to see the host Pirates surge late in a 62-56 Grizzly defeat.
The good news is that Sunnyside defenders held Davis's two leading scorers, Les Henderson and David Trimble, to just 12 points combined for the contest.
The bad news is that the Pirates' Davonte Lockett broke loose for a game-high 24 points, including 11 in a 23-11 fourth quarter run by Davis in rallying for the win.
Davis led 17-10 after one quarter and 29-24 at the half. Sunnyside answered in the third quarter with a 16-5 run to go up by six, 45-39, heading into the fourth quarter.
"We just came back a little more patient on our offense, rebounded stronger in the second and third quarters," Sunnyside Coach Ron Rowe said of the turnaround.
That set the stage for the Pirates and their fourth quarter comeback.
Davis took the lead for good with about four minutes to play in the contest with a six-point swing keyed by a pair of Sunnyside turnovers. The Grizzlies in a matter of moments went from being up by one midway through the fourth to being down by five.
Pedro Vargas and Alfredo De La Barrera paced Sunnyside with 16 and 15 points, respectively. De La Barrera also led the Grizzlies in the paint with 10 rebounds.
Sunnyside again found itself down early at home on Saturday, as visiting Moses Lake blitzed out to a 25-13 first quarter lead over the Grizzlies, then held on for a 58-56 win.
Pacing the Chiefs early was forward Isaac Bergeson with 18 first quarter points, 14 of them coming off of putbacks.
"We didn't block him off the boards," Rowe said of Bergeson's first quarter fireworks. Sunnyside switched to a zone to get back into the game and held Bergeson to 12 points the rest of the way.
"We made a couple of defensive changes and climbed back into the ballgame by halftime," Rowe said of the Grizzlies' 20-7 second stanza surge that vaulted Sunnyside into a 33-32 lead at the half.
Israel Manzo led the way for Sunnyside in the second quarter, scoring nine of his 18 points.
Both teams struggled on offense in the third quarter, with neither team able to shoot better than 20 percent from the field for the frame.
Even so, the Grizzlies nudged their advantage to four heading into the final quarter, up 42-38.
The contest remained tight in the fourth quarter until Moses Lake caught a break inside the final minute.
With the contest tied at 56-56, Sunnyside had the ball with 25 seconds to play in regulation.
A situation with the game possibly in hand took an unfortunate turn south for the Grizzlies.
"We had the ball but we got in a hurry and shot too quickly," Rowe said. "We gave them a chance to come back and hit a shot with about four seconds left."
Down 58-56, the Grizzlies had to resort to a 28-foot three-point attempt that rimmed off at the buzzer.
De La Barrera led Sunnyside with 20 points, followed by Manzo's 18 points.
Vargas led the Grizzlies in the paint with seven rebounds to go with eight points. Sunnyside was shorthanded inside Saturday, as Tristan Abbott saw limited playing time in recovering from an ankle injury sustained during Friday night's contest.
In addition to Bergeson's 30 points, Moses Lake's Josh Lowera tallied 17 points.
Although the Grizzlies sustained a pair of agonizingly close losses, Rowe said 3A Sunnyside had plenty to be positive about in taking a pair of 4A schools down to the wire.
"We did some things really well over the weekend," he said. "Our defense was good overall, we did a good job of moving the ball on offense."
Rowe noted now it's a matter of closing out the contests well.
"We need to talk about how we need to finish it on out and get the win," he said.
Sunnyside returns to action tomorrow, Tuesday, at Hanford.