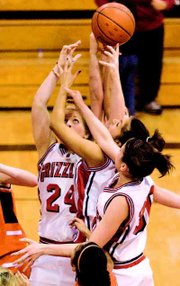 The Sunnyside High School girls basketball team watched a seven-point lead evaporate in the final minute of this past Friday's game with the Davis Pirates but then woke up in overtime to win 62-60 and pick up their first league win of the season.
Sunnyside then traveled to Moses Lake on Saturday night, where the Lady Grizzlies lost 45-16.
In Friday's game, Sunnyside jumped out to a 14-13 first quarter lead and then used solid free throw shooting in the second quarter to maintain a 26-25 halftime lead.
Sunnyside Coach Eric Berg said the Pirates were in foul trouble for most of the second quarter, which sent the Lady Grizzlies to the line 10 times. Sunnyside went 10-for-10 from the line in that quarter.
Davis edged back in the third quarter, outscoring Sunnyside 13-8, and then used a wild last minute in the fourth to tie the game.
Sunnyside was up by seven points in the last minute of the game when a Davis player hit a shot and was fouled. After making the free throw the Pirates got the ball back and nailed a three-point shot to cut the lead to just one point.
Davis got the ball back again and Sunnyside was forced to foul a Davis player to prevent a wide-open lay-up. The Pirates got one of the two free throws to force overtime.
In overtime Sunnyside took the lead early but then lost it. Down by one point, Sunnyside's Megan Tyler had an easy shot that she missed. Grabbing her own rebound, Tyler took a difficult fall-away shot in the middle of the key to give Sunnyside a one-point lead with just seconds left.
After a Davis turnover, the Pirates were forced to foul Sarasa Partida, who converted one of two free throws for a two-point lead and a Sunnyside win.
Berg said it was a great game for his seniors, Katie Wutzke and Tyler. Wutzke finished the night with 24 points and eight rebounds. Tyler got the game winning shot and finished with eight points and eight rebounds, all on limited minutes due to foul trouble.
Sunnyside's Destiny Maya had a breakout game for the Grizzlies, scoring 21 points and grabbing six rebounds.
Davis was led by F. Corbray with 19 points.
Berg also lauded the play of Hannah Marro, who played outstanding defense, and Toni Castillo, who finished with a team-high 11 rebounds.
On Saturday, Sunnyside traveled to take on Moses Lake, the fourth ranked 4A team in the state.
"The lid was on the basket," Berg said. "We couldn't buy a bucket."
The Chiefs were led by WSU-bound Carly Noyes with 21 points.
Moses Lake led 14-2 after one quarter and then 20-4 at halftime. Although the score was a bit lopsided Berg said he was happy with his team's defensive effort, limiting the high-power Chiefs to just six points in the second quarter.
Sunnyside continued to play tough defense in the third quarter, holding Moses Lake to just seven points, but could only score six points themselves.
"I was very happy with our defense," Berg said. "Our shots just weren't falling."
Maya led the Lady Grizzlies with 10 points. Teammates Castillo and Jessie Robert each had three points.
Berg was happy with the play of Robert, noting she came into the game in the fourth quarter and hit 3-of-4 attempts from the free throw line.
Sunnyside (1-7, 2-11) will travel to play Hanford High School this Tuesday, Jan. 27, for a 5:45 p.m. game.