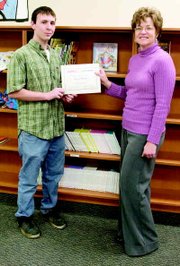 Sunnyside High School senior Kevin Wilson knew he had to complete his Eagle Scout project to actually become an Eagle Scout but wasn't quite sure what to do.
But brainstorming with his mother and Sun Valley Elementary School Librarian Kristina Platsman soon pointed him in the direction he knew he wanted to go.
"I wanted to do something for the school district but didn't know what would make the biggest impact," Wilson said.
Sun Valley Elementary School Principal Heidi Hellner-Gomez said she was thrilled with the idea.
"We always like to partner with high school students," she said. "They are a great resource for us, especially in the arts."
At first he thought about building a reading area outside of Sun Valley's library but decided the weather wouldn't permit that right now. That's when he came up with the idea to paint children's stories characters on the library wall.
Platsman made her favorite characters known to Wilson. She mentioned the ones from books that seem to just fly off the shelf, she said.
Wilson went around Sunnyside asking for donations and soon had enough money for the paint and supplies. He enlisted the help of some friends, mainly Tassie Hammond and Emily Slinker, and proceeded to spruce up the library.
Wilson said it took him and his team about five days over a two-week period to complete the paintings. Most were done free-hand but some had to be traced using a projector.
The result is characters like Curious George, No David, the Cat in the Hat and the Little Old Lady Who Swallowed the Fly.
"I'm thrilled and excited," Platsman said. "It just made the library come alive."
Wilson is satisfied with how things turned out as well, but said it wasn't all him.
Besides Hammond and Slinker, Wilson had other friends help him with the project.
"It was a challenge," he said, adding it was fun to see the reactions of the students when they saw the paintings.
Wilson also thanked his parents and his scout leaders for their support in the project.