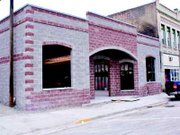 GRANDVIEW - Like a phoenix rising from the ashes, the rebuilding of a downtown Grandview grocery store razed by a late summer fire is beginning to take shape.
Construction of Su Mercado has been underway for quite some time and could be completed in two to three weeks.
"I'm thinking the building itself will probably be done in two weeks, but by the time we get everything back inside, it will probably be a month and a half," said owner Maria Alcanter.
Alcanter and her husband, Jose, own grocery stores in Mabton and Granger, in addition to the Grandview store. A June 30, 2008 fire completely destroyed the Granview grocery store and all its contents.
Thankfully, the Alcanters were insured.
The new building currently under construction is an attractive design featuring brick. "It was (a) brick (building) before," said Alcanter.
The grocery still will feature the same types of items it had before: a carneceria, grocery items and gift items.
"It will be a variety store," said Alcanter.
Grandview city officials are pleased with the aesthetics of the building.
"We're happy with the results," said City Administrator Scott Staples. "It looks like it's going to be a very attractive building. People are going to be pleased with the attractive storefront."