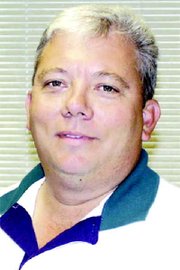 In a surprise move last night, Sunnyside Mayor Pro Tem Bruce Epps announced his resignation from the city council effective at the end of Monday night's meeting.
Epps said he made the decision last night just before getting to the council meeting.
"I've been sick for six weeks and I take care of two hospitals," Epps said of his employment with Yakima Regional and Toppenish Memorial hospitals.
Between the pressure of being sick and serving on the city council, something had to give.
"I'm working way too many hours," he told his council colleagues. "I've got to take care of me." He praised his fellow council members for their "phenomenal support," noting "you could not find a better group of people to work with."
Mayor Paul Garcia and the city council now has to set about the task of first selecting a new mayor pro tem, then appointing someone to Epps' position. Garcia said Epps will be a hard act to follow.
"The city and its citizens have lost a very capable and highly respected council member that will be sorely missed," Garcia said. "Bruce has always provided excellent guidance on issues important to the citizens and to financial well being."
Epps was elected to the city council in November 2005, narrowly unseating incumbent Mike Farmer, who was also mayor pro tem. At the time of his election Epps said he'd be a listener for awhile in learning the ways of council.
But the past couple of years have taken their toll on council and Epps, first dealing with the sudden departure of former city manager Bob Stockwell in the fall of 2007, then a six-month hiring process for a new city manager on top of dealing with a $1.1 million budget shortfall for 2008 and 2009.
The tough decisions of wrangling over everything from garbage rates to reducing police staffing have caused Epps and his council mates several split votes over the past six to eight months.
Councilman Jim Restucci alluded to the goodwill despite the disagreements at times, "I've enjoyed working with him and our heated debates will be sorely missed. I want to thank you Bruce."
The ability to get along even when opinions differ was a hallmark that Epps later said he will miss about this council.
"I'll miss the camaraderie," he said. "We may disagree but we're able to work together."
It doesn't sound like the ability to agree to disagree will change now that he's no longer a councilman.
"Can we still be friends?" Councilwoman Theresa Hancock asked Epps with a smile.
"We'll see how you vote," he laughed.