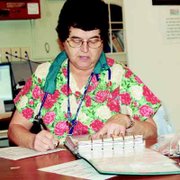 An A+, 100 percent, acing the test, or in the case of Hillcrest and Grandview Health Care Center nursing homes, scoring five out of five stars on a recent federal review of their facilities.
They were the only two nursing homes in the Lower Valley receiving perfect scores.
This marks the fifth year in a row that Hillcrest has earned the five-star designation, said administrator Mary Arthur.
Checking everything from proper dating on medical prescriptions to the temperature of the food served, federal Medicare inspectors gave Hillcrest five out of five stars overall. The nursing home also received a perfect mark for its nursing staff.
Arthur says one of the keys to that success is the longevitity of Hillcrest's staff. It's not uncommon for employees to work at the home long enough to go from entry level jobs all the way up to nursing and management.
Arthur also gives a lot of the credit to the Eden approach that Hillcrest adopted in 2000.
Instead of approaching a stack of laws as onerous, Hillcrest staff have been taught to look why the laws are in place.
"The reason behind these rules is that the elders need this service," Arthur said. Working at Hillcrest, she adds, "is based on a love relationship with the elders rather than a fear relationship with Big Brother."
The work at Hillcrest flows out of that spirit of love, she says.
Another area that helped Hillcrest received the high ranking is in its offer of therapy services to residents seven days a week by having therapists on staff as employees. Arthur said she did some looking and couldn't find any homes in Yakima that offered such a service, with in-house therapists available seven days a week. She noted that nursing homes often contract a few days each week for therapy services with providers who work outside of the home. She said that means a resident could check into a nursing home facility on a Friday and not see a therapist until Monday.
Arthur called the five stars a "pat on the back" for her employees. "I can tell them they're doing a good job, but when you get a pat on the back from the federal government, that's the highest recognition you can get."
Over at Grandview Health Care, like Hillcrest a member of the Eagle Healthcare company, administrator Harry Aubert says the five-star rating validates the work he and the staff are doing.
"It validates what we do," he says. "One of the things you find is there's a great bit of pride when you're the best in the business."
Aubert said Grandview's success, which also included five stars for quality measures, in part stems from a decision by management and employees to focus on helping those with mental health care needs.
"We as a group just made a commitment to serve these people well," he said. "We entered into an agreement with Comprehensive Mental Health for weekly assessments."
Grandview has also instituted an in-house inspection program that catches potential problems.
Aubert called it a "quality assurance program" that has developed into a monthly self-auditing process.
"You have to stay on top of it and believe in the standards and work for the best interest of the residents," he said. "We're the ones who necessarily have to make good judgments for them."
He also praised Eagle Healthcare and its quality assurance nurses who conduct peer reviews to make sure the nursing home is following standards.
Getting five stars comes down to not only following the law of the land, but adding that spirit of love and caring.
And that ultimately makes the homes a star in the eyes of their residents.
Hillcrest, for example, recently had its first-ever Winter Ball. Arthur recalled what the dance meant to one elder who didn't get to go to her high school prom.
"It's something I've always dreamed of," she told Arthur. "You've fulfilled my dream."
Arthur blinked back a tear, adding, "That's what it's all about."