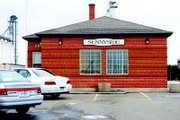 GRANDVIEW - No longer operating out of her office on South Sixth Street in Sunnyside, Dottie Cervantes has moved her business home to Grandview.
The owner of Travel Connection said she will continue to serve Lower Valley residents with the same care she has provided them throughout the years. "With the decline in travel and the economy I needed to reduce my operating costs," Cervantes said.
She said it wasn't economically feasible for her to pay overhead on an office, and because most travel arrangements are now paperless there isn't as much need for clients to visit a travel office.
As a result, Cervantes is operating out of her home and speaks with travel clients via the phone or fax communications. She is also available by email.
She will still meet with clients when the need arises, such as to provide travel package information and brochures.
Cervantes closed her doors and posted her new phone number (509-203-4630) in the window at 102 South Sixth Street in Sunnyside at the beginning of the year.
She said Jean Michels of Sunnyside still works for the agency, providing group travel offers, such as tours to Cuba, Israel and Italy. Michels is available by calling 837-6646.
Cervantes added there are a number of discounts to help the travel industry right now. "Families are making the (travel) decisions that best suit their needs," she stated, saying the discounts might afford her clients better travel options.
However, her need to reduce operating costs has led her to the decision to serve the Lower Valley at a lower cost to her business.
To contact Cervantes, travelers can call her or email GVTravelConnection@yahoo.com.