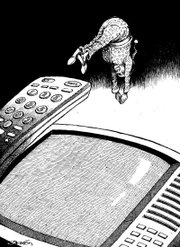 Have you ever seen someone watch television? It has to be the most unflattering look a person can give themselves. Don't believe me? Just take a look at your loved one tonight when the two of you are watching TV.
Is that why television is called the 'boob tube'? Is it because it makes a person look like a boob?
When a person is intently watching television they resemble a slobbering zombie a crumb short of a cookie.
But what makes it worse is that a lot of the programming on today's channels is just as stupid as the look people get on their faces while watching it.
Since moving to the Greater Sunnyside area I have resisted getting satellite television. This is partly due to funding issues and also because I already have five channels of crap, why do I need 150 of them.
There are some interesting shows I watch every once in a while but most are just stupid, and in turn dumb me down a bit.
Case in point, I love shows like Two and a Half Men, The Family Guy, American Dad, Worst Week and The Simpsons. These shows are funny in a sophomoric, juvenile way and I enjoy them. I'm sure if someone looked at me while I was watching these shows I would look like a stupid zombie with a smile on his face.
Sure, these are dumb shows but they make me laugh. And I like to laugh.
Then there are the countless crime-drama shows. NBC has several Law & Order spin-offs and CBS has three CSI shows. These shows are okay and for the most part they are not harmful.
But there are some shows that are. True Beauty is one of those, in that it makes the viewer a dumber person for watching it. The show follows around a group of beautiful people who thing they are competing on their looks. The twist is that the judges are judging the hotties not only on looks, but also on inner beauty.
So you get situations where a person falls off their bike in front of the beautiful person and the judges see if they help the person up. Or a person will throw a plastic water bottle on the ground and the show's contestants will be judged on whether they pick it up or not.
The show is a joke. What is an even bigger joke are the actual judges. There is Cheryl Tiegs, a former model, Vanessa Minnillo, a former MTV personality, and Nolé Marin, a fashion expert. Does anyone really believe these people would go out of their way to show their inner beauty? I can't say for sure but for some reason I doubt it.
I guess my biggest question is what makes them qualified to judge anyone's inner beauty?
Then there is the show Momma's Boys. This gem pitted three men with several lovely ladies. The object of the show was for the men to find their mates. The twist was the men's mothers were along for the ride and gave out advice.
We get to see the mothers scheme so that they get their way. One of the women is just pure evil, not wanting her son to be with anyone of color or who isn't of the Jewish faith.
I believe this show just ended and was shocked, but not surprised, to see that a Momma's Boys 2 will soon be out.
Let's see, we can't forget Beauty and the Geek, can we? This show isn't on anymore but it was such a lame show I thought it should be mentioned here. Another lame show not on the air anymore is Temptation Island. Remember that one? This show featured several couples on an island with several beautiful men and women. The show's premise, which would cheat with who first.
One show that I like but think is a little sleazy is The Biggest Loser. This show helps seriously overweight people lose their pounds. Of course their pain, humiliation and suffering are all shown on television to bring in advertising dollars. It makes me a little conflicted.
Last but not least is The Bachelor. How can a guy find true love by dating 20 women? Have any of these relationships worked out? Highly doubtful.
All these dumb shows make us, the viewer, dumb. And the shows like True Beauty, Momma's Boys and the likes not only make us dumb, but they make us shallow, cruel and erode our American values.
It's time to bring back the Beaver.
More like this story