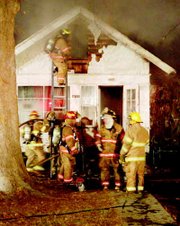 Sunnyside firefighters were called out on three structure fires yesterday (Tuesday), all within one hour of each other.
Sunnyside Fire Chief Aaron Markham said as far as he could recall this was the first time so many structure fires had been reported in such a short time.
The first call came in at 5:25 p.m. from an apartment complex in the 600 block of Cemetery Road. A furnace malfunction was blamed for the fire.
An apartment was damaged and estimated dollar loss was $15,000.
Firefighters received their second call of a structure fire at 6:02 p.m. from Parkland Drive, space #83. The mobile home fire started due to a faulty dryer cord. The mobile home was destroyed as well as most of the home's contents. The damage was estimated to be $25,000.
The Grandview Fire Department was called in to help with this fire but was diverted to the 1200 block of East Decatur Avenue when a fire there was reported at 6:16 p.m.
The cause of this house fire is unknown and Markham said he will investigate the cause later today. A bedroom and closest area are going to be the focus of the investigation.
Markham said there are a lot of circumstances surrounding the Decatur Avenue fire, noting there was an eviction notice given to the residents of the house. He wasn't sure how old the notice was.
"We need to find out more information," he added.
Damage to the house on Decatur Avenue was estimated to be $80,000.
Twelve paid firefighters from the Sunnyside Fire Department and nine volunteer firefighters responded to the three calls. Assisting the Sunnyside firefighters were four firefighters from the Grandview Fire Department, five firefighters from Yakima County Fire District No. 5 Station 12 in Outlook and two command staff from Yakima County Fire District No. 5.