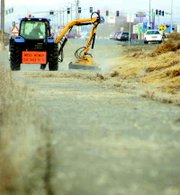 The cause of Tuesday's house fire in the 1200 block of Decatur Avenue in Sunnyside is still under investigation.
Sunnyside Fire Chief Aaron Markham told the Daily Sun News that the initial investigation hasn't turned up any accidental sources for the blaze. He said that his department will work with an investigator from the insurance company covering the home.
Two city firefighters with one fire engine assisted Yakima County Fire District No. 5 with a car fire in the 700 block of Ray Road yesterday, Wednesday, at 7:49 a.m. Although details of the fire weren't available, Markham said his two firefighters were back at the station within an hour.
Since last Monday Sunnyside firefighters have answered seven aid calls, transporting three patients to the hospital. Firefighters have also provided seven transfers.