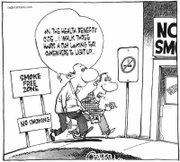 It's bad enough walking into a room and knowing that the scent of cigarette smoke is wafting after you. It's like wearing a big, smelly banner that says guiltily, "I smoke!"
I have guilt about my smoking and many reasons for it. Why, oh, why, then do legislators persist in punishing me further by proposing to up the sin taxes?
According to a recent press release, there's now a "Cut Smoking, Not Prevention," campaign out of Olympia established to support a $1 per-pack cigarette tax increase.
According to the press release, the goal of the proposed tax increase is to create funding to continue with smoking prevention and cessation programs.
Does this line of thinking really work?
I'm skeptical, largely in part due to the fact that I've yet to meet a cessation program that I like.
The cost of my cigarettes has increased tremendously, but where does that money go?
Why do we need to up the already outrageous state sin taxes?
I say leave it be. I feel guilty enough about my bad habit, leave my pocketbook alone!
One benefit to this that I actually agree with is that it would incite fewer people to smoke. Who wants to pick up a $7 a day habit?
But for those of us who already have the habit, $6 a day is enough to stomach.