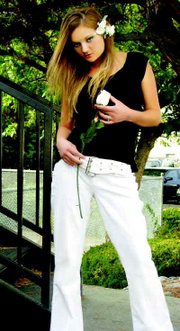 GRANDVIEW - Grandview's Tara Collins outlasted nearly 32,000 people before being ousted from the International Bowling Karaoke Superstar competition in Las Vegas, staged June 21.
Collins won the regional karaoke competition in the Tri-Cities in early June and was invited to Las Vegas to compete against 66 other regional winners.
In the Tri-Cities she outlasted a number of people over a six-week competition. Each week four winners were announced and after the end of six weeks, Collins had a sing-off with 23 other competitors and won.
"I felt great but to tell you the truth I didn't think I was the winner that night," she said. "I was quite surprised."
The competition was whittled down to 66 contestants from 32,000 people across the United States and Canada. Collins said she got to sing two songs for three judges at the Las Vegas competition. She chose Fighter by Christina Aguilera, the song that won her the regional competition, and Because You Love Me by Celine Dion.
The contestants were split into four rooms where five winners were chosen, paring the competition down to 20. These people competed and then it was narrowed down to 10 singers. From there, a first, second and third place finisher were named.
Collins didn't make it past the first cut.
"I felt really confident with my performance in Vegas, but compared to the competition, I just wasn't good enough," she said.
All wasn't lost though, Collins and her fiancé got to spend some time in Las Vegas and she piqued the interest of one of the creators of the competition.
"Maybe something good will come from it," she added.