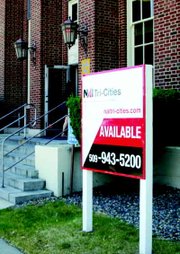 A "for sale" sign is currently perched near the front steps of the Sunnyside Post Office.
According to a local post office employee who preferred to remain nameless, long term plans have always included eventually moving the post office operations to the building known as the annex, which is located at 770 Custer Avenue.
"We're looking at trying to sell this building and move everything (to the annex)," said the unnamed source.
This past November, the Daily Sun News reported that post office officials were hoping to move to the annex by the end of that month. But a budget crunch and declining revenues hindered the move. Postmaster Lewis Gress said at the time that postal officials were hoping to move by this past spring.
The main floor of the downtown building isn't large enough to house both post office boxes and mail carriers.
The handsome, downtown building features a basement, main floor and upstairs.
Realtor Gary Earp of NAI Tri-Cities did not return phone calls seeking comment regarding the price tag for the building.