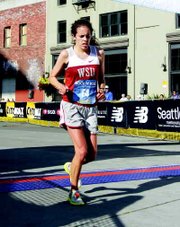 SEATTLE - Sunnyside's Isley Gonzalez finished third in last Saturday's first ever Rock 'N' Roll half marathon in Seattle, earning up to $5,000 in the process.
Gonzalez graduated from Sunnyside High School, where she excelled on the Lady Grizzly cross country and track teams. She also ran on the cross country team at Washington State University. Gonzalez has spent the last year working within the Sunnyside School District.
Gonzalez wasn't planning on competing in the Seattle marathon but when a former WSU teammate called her and gave her an invite, she accepted.
"I wasn't doing anything so I said yes," she explained.
Instead of opting for the marathon, something she's never ran before, Gonzalez decided on the half marathon, again an event she had never ran before.
Gonzalez said she runs 13 miles every Sunday so running the half marathon wasn't that much of a stretch. Still, Gonzalez was surprised at how well she did.
"I didn't expect to do as well," she said. "There was a lot of competition."
Gonzalez finished the race in 1:20.14. She earned prize money for finishing the race in third, for being the first American female finisher and for being the first Washington state woman to cross the finish line. The total she believes she will receive is somewhere in the vicinity of $5,000 for her performance.
The race started in Tukwila and finished at Quest Field in Seattle.
Gonzalez said last weekend's success won't change her style of competition. She prefers road races to marathons, but she did say that eventually she will run a full one.