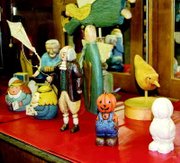 This season the Sunnyside Museum is featuring new displays: whimsical woodcarvings created by area artists.
Included among the works of art are Ben Franklin, Noah's Ark and different styles of Santa Claus.
An informal woodcarving group created the displays.
Sunnyside's Barbara Johnson is among the featured artists. She said the group began woodcarving about 15 years ago.
"It's very informal, we've don't have a president, there is no secretary and there are no dues," she said.
She said the group meets at the Sunnyside Christian school's church.
"We get together, carve and help each other out," Johnson said. "We just have a good time and we're very supportive of each other." She added that they also share tools, tips and patterns, although some woodcarvings are born out of the women's imaginations.
The group has also traveled to different woodcarving shows and workshops.
She said they primarily use sugar pine and bass wood. "We do not use balsa. That's way too soft."
The women are known for donating woodcarvings to various good causes. She added that when the Sunnyside Christian Thrift Shop manager came across wood cut-outs, she called carvers Eileen Timmermans and Judy Trull. They picked up the wood, took it home, made carvings, then donated them back so they could raise funds for the Christian school.
It was at the request of John Saras that some of the women donated items for the public to enjoy at the museum.
They merrily obliged.
The items can be viewed Thursdays through Sundays at the Sunnyside Museum from 1 to 4 p.m.
Another new display this season is a large antique doll display, some of which were donated from the family of Roscoe Sheller.