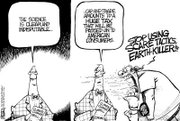 As Congress debates measures to grow our economy and create jobs, it is important to understand what an important role small businesses play in our economy.
Whether it is a family farm or the neighborhood restaurant, small businesses are the backbone of America's economy. That's one reason I'm so concerned about the direction this Congress is taking when it comes to two key issues - health care, and cap and trade.
Those who control Congress are proposing a government-takeover of our health care that would mean fewer choices, longer waits and higher costs. It would put government bureaucrats rather than patients and doctors in the driver's seat - and add new costs to already struggling small businesses.
Americans deserve better. No one should come between you and your doctor. Every American should get the health care they need when they need it. And, we can make quality health care more affordable without putting costly mandates on small businesses in our hometowns.
This Congress should be creating more health care choices - not less. We must expand Health Savings Accounts, make more health costs tax deductible for more Americans, make it easier for small businesses to afford to offer benefits, limit lawsuits that drive up costs, and cut down on waste, fraud and abuse.
Another threat to local small businesses is the cap and trade national energy tax that was just passed by the House of Representatives. I opposed this bill because imposing this national energy tax and creating a massive new bureaucracy to regulate the entire economy will drive up the cost of doing business in America - sending jobs overseas to nations like China and India, nations that flat-out refuse to reduce their own carbon emissions. If this bill becomes law, our economy will shrink in size, millions of jobs will be lost, energy costs will (to use the President's own word) 'skyrocket', and gas prices will again reach record highs.
We don't need this job-killing tax to achieve a cleaner, cheaper more diverse energy system. We need an all-of-the-above approach that says yes to nuclear power, alternative energy, wind and solar power, energy from wood-waste and biomass, hydropower, and drilling for oil and natural gas in America.
As a former small business owner, I understand how challenging it can be. With an economy that needs all the help it can get, now is not the time to impose new taxes and mandates on the entrepreneurs that create 80 percent of all the jobs in this country.
- Congressman Doc Hastings (R-Pasco) represents Central Washington's Fourth Congressional District.