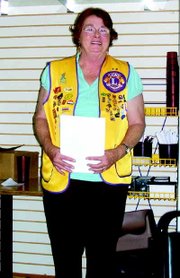 Carol Stone has just begun a tremendous undertaking: she was recently inducted as president of the Sunnyside Lion's Club and has big plans for the coming year.
"I tend to be overly enthusiastic," she said with a smile. "My club knows that."
Stone has a tendency to jump into volunteerism feet first. She's also blessed with a strong sense of commitment.
Particularly important to the new Lion's Club president is beautification of Sunnyside, something she's already been active in and trying to promote.
Recently, a community member approached her about beautifying an area that consisted of gravel and three big boulders. The community member felt it could look better, so Stone went home, dug up some of her own plants and came back. They set out to work and soon a nearby homeowner volunteered to help.
"He dug the holes," she recalled, adding he had the equipment and stamina, but more importantly the willingness to help. "It was super. There was such good chemistry that night."
She also wants high school clubs to take on beautification of certain areas. Her dream is that the students will work with younger kids, side by side. "That way, the youth would get a connection and then we give the teen the opportunity to mentor the younger kids." And, she added, "Get back a sense (of pride) that this is 'my town'."
At the suggestion of a fellow Lion, the club has taken on the task of beautifying the pathway. "We've already collected four huge garbage bags."
Stone said many years ago Lion's Club members erected gold benches around town that are still much appreciated today. She wants to install a few more, particularly on South First Street where sidewalks are being installed. Only she'd like to do it with a twist: she's already found purple benches (the Lion's colors are purple and gold).
Of course, she said, "We'd have to raise funds for that."
The Sunnyside Lion's Club has seen its fair share of trouble and dwindling numbers. This year, there is no Independence Day fireworks show as there's been in the past. And they stopped doing the free Thanksgiving dinners for the community.
But the club is currently being rejuvenated. In the last club year, which runs from July to July, membership swelled from 12 to 21. Stone's goal is to see it increase by another 50 percent.
"I want more people," she said, flatly. "I want people who are active and enthusiastic. With more people, we can get more done.
"I'm big on teams and team building," she said.
She's also passionate about helping people, which the club's been able to do over the years. The Lion's Club paid for one little boy to have an updated hearing device. They also helped a woman get a new false eye.
"Vision is a main focus of Lion's," she said. "Vision and hearing."
The Lion's Club meets twice a month on the second and fourth Thursday of every month.