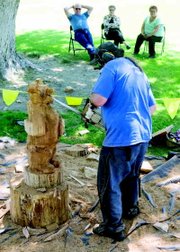 MABTON - Jack McIntyre, aka Chainsaw Jack, leaned towards some youngsters and whispered a little secret.
"Most adults don't like what they do," he told them.
McIntyre was in Mabton yesterday as part of Yakima Valley Libraries summer program, where he encouraged students to find a creative career they love. He admitted that parents might not like that and could push them into a career as a lawyer or doctor but McIntyre had some advice for that as well.
"Don't listen to them," he said.
The message McIntyre seemed intent on getting across was that a person should be happy to go to work every day. That, he said, is the key to happiness.
He encouraged the students to find something they truly love doing and make that their career. His reasoning was that if a person truly loves what they do, they will do it all the time. This in turn, will make them better at what they do, which in turn will lead to success.
He also lauded the American system, saying that a person in their 20s can afford to make a few mistakes and still make it out okay.
Besides offering career advice, McIntyre also gave some safety tips and a chainsaw carving demonstration.
Telling those gathered for the demonstration that he wouldn't be able to do what he loves if something happens to him, McIntyre pointed out he wears padded gloves to protect his body from the constant vibrations of the chainsaw. He also wears eye, ear and foot protection, as well.
"When you have a healthy body and a strong mind you can play for life," he said.
Chainsaw Jack then carved a three-foot bear holding flowers behind its back for the demonstration.
McIntyre has been in several competitions and has several awards for his chainsaw art. He has been featured on ABC's Extreme Makeover Home Edition and says he would like to start an art channel on television.
wood log into a sculpture.