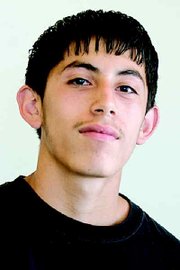 14-year-old Lorenzo Carbajal of Sunnyside isn't much of a talker. Around people he doesn't know, he comes across as a bit reserved, a little unsure of himself.
On the gridiron, however, the teen oozes with confidence, letting his on-field actions do all the talking.
A five-year veteran of the Sunnyside Grid Kid program, Carbajal has earned a spot at this month's Top Gun tryouts, to be held July 22-26 in Paisley, Fla. If he stands out from his peers there, he'll move on to play in the televised U.S. Army All American Bowl in San Antonio, Texas.
The one thing standing in Carbajal's way of making the trip to Florida later this month is the Top Gun camp fee of $600, as well as travel expenses. Towards that end, supporters of the youngster are putting together fundraisers to help him achieve his dream.
The first of those fundraisers is slated for this coming Saturday, July 4. A yard sale will be staged at 1004 Harrison Ave. in Sunnyside from 6 a.m. to 3 p.m.
Carbajal's Grid Kid coach, and his grandfather, Max Saldana, is also accepting donations from community members, residents and merchants alike, who want to support the youngster. Pledges can be phoned in to Saldana at 391-0911.
The Sunnyside teen has earned numerous accolades since stepping into organized football at the age of nine, including being named offensive and defensive player of the year for his team, as well as MVP. A Presidential Academic Award winner all three years in middle school, Carbajal, as well as teammates Joseph Contreras and Jose Ortiz, drew invitations this past season to attend a prestigious FBU football camp in Seattle. Carbajal made enough of an impression on the NFL instructors that he was selected to show his stuff at the Top Gun tryouts in Florida.
Now, it's just a matter of getting the money together to make the trek to the East Coast.
"I have learned that if you work hard and be disciplined you can achieve great things," Carbajal said, adding he is humbly asking for financial help from his community.
Carbajal said in the coming weeks he will work hard at putting together yard sales and car washes, as well as seeking donations, so that "...I am able to represent myself and my community in a positive way."