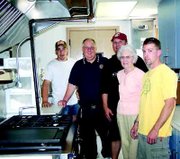 GRANDVIEW - At long last, Grandview's Fred E. Hayes American Legion Post 57 has met its goal of replacing the senior center's worn out cooking range.
Legion members saw completion to the ambitious two and half year community service project last month when they installed a new gas range.
"It took much longer than we anticipated," said Post Commander Robert Gates.
The post embarked on the project in January 2007. American Legion members mulled many community service ideas and finally landed on the idea of a new range.
"We looked at several options but it didn't take us long to identify an immediate need right where our post meets: a malfunctioning gas range (at the senior center)."
According to Adjutant Jim Davidson, the senior center had a second hand commercial gas range installed by the county a number of years ago as part of the senior meals program.
"Unfortunately, it didn't operate well and eventually became a hazard to use, including failed pilot lights that caused gas to leak," Davidson said.
Gates added, "We referred to it as the 'boat anchor' because it served no purpose at all."
That left the kitchen operating with one four-burner electric range to prepare meals, which Gates said was of no benefit when it came to feeding large groups.
Gates credits Davidson with suggesting a new gas range.
Davidson and his wife Nancy, who is the auxiliary secretary, spearheaded meal functions for large American Legion events at the center for a number of years and had become quite familiar with the limitations imposed by a non-functioning range.
The post then set the goal of raising $10,000.
"Two-thirds of the money raised came from within our local Legion family," Davidson said, adding that community support was less than expected. "But we are grateful for donations provided by the Grandview Lion's Club, the Grandview seniors and Yakama Legends Casino, as well as a discount from the dealer that helped us get to this point."
The post still needs about $700 to compensate for other post funds that were used for the final payment.
The new unit, installed by Bunch Finnigan Appliance in Kennewick, features six burners, a removable griddle and two electric convection ovens.
"I know we'll enjoy using the range to serve large groups," said Betty George, American Legion Auxiliary President. "I know other groups will feel the same way."
Parks and Recreation Director Mike Carpenter agreed. "We are so thankful the Legion made the effort to upgrade the kitchen. The seniors will appreciate it."
Grandview Mayor Norm Childress noted in a letter to the post, "The unit will serve the kitchen needs for many groups and organizations for years to come. We are fortunate to have groups like the American Legion in our community. Your dedication and generosity is so very much appreciated.