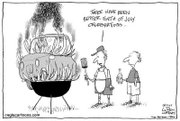 This coming weekend American families across our nation will celebrate the Fourth of July. This holiday is a time to celebrate our independence from the British monarchy and our nation's drive to be the first self-governing democratic republic in history.
While many of us will enjoy a trip to the beach or a barbeque with family and friends, it is also an opportunity to reflect on what it means to be an American. The Fourth of July is the perfect time to remember the freedoms and rights that are enshrined in the Declaration of Independence.
While we too often take our freedoms here in the United States for granted, the truth is that the rights we cherish today are continually under assault around the world. Just recently in Iran we saw what happens to peaceful demonstrators when they rally against their government. In the United States such a protest is perfectly legal and protected in the First Amendment. In Iran such a protest gets you jailed, beaten and even killed.
Today there are hundreds of thousands of American troops stationed around the world protecting our nation and promoting our freedoms and rights. Whether it is serving on the front lines in Iraq and Afghanistan, guarding the border between North and South Korea, or serving a lonely outpost in Africa, our men and women in the United States Armed Forces are on the front line of efforts to advance the cause of liberty and justice around the world.
As one who calls the Tri-Cities home, I can tell you that the spirit shown by the brave Americans who signed the Declaration of Independence is alive and well in Central Washington today. Men and women from communities throughout Washington embody the ideals written in that great document that announced our independence to the rest of the world.
More than fireworks and swimming pools, the Fourth of July is a remembrance of sacrifice, of duty, of honor and of courage. It is the time when 56 men signed their names to a document, breaking free from the oppression of the British Empire and sending a message to the rest of the world that they were claiming their rights as free men.
As you celebrate the Fourth of July this year, please take a moment to remember those who came before us and who fought for the freedoms and liberties we all enjoy today.
- Congressman Doc Hastings (R-Pasco) represents Central Washington residents.