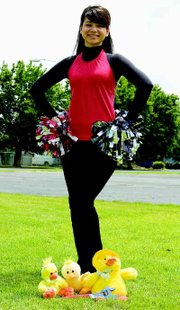 Taking to the stage and dancing her heart away is Jaylyn Cervantes' idea of nirvana. That's why she's selected a jazz dance routine to Lady Gaga for the talent portion of the Miss Sunnyside Pageant to be staged in September.
"I started dancing when I was a little girl. I have videos of me as a little girl, twirling around in a tu-tu," she says with a laugh. "Dancing's just something I've always loved."
Cervantes began taking classes at Martin's School of Dance when she was in the fifth grade. By the end of the fourth class, she says, "I was already at the advanced (level).
"That's when I knew this is what I love. This is what my passion is."
The 16-year-old dancer is the daughter of Jose and Cynthia Cervantes, and has six siblings: Angelica, 27, Kristal, 26, Andrew, 21, Julie, 20, Amanda, 13, and Jose David, 7.
Of being the middle child, she says with a smile, "It's the best of both worlds. I have older ones to look up to and the little ones to look up to me. We're all very, very close."
Cervantes says she's in the running for the Miss Sunnyside crown so that she can expound on being a role model.
"It makes me feel like a better person, knowing that there's people that look up to me," she says.
"I'm running to be Miss Sunnyside for a chance to represent the community to the best of my ability and to be a leader as well as a role model," she says. "And (it's) a chance to get the community involved."
She also wants to introduce Children's Wishes and Dreams to the Sunnyside community for a service project should she be crowned.
The non-profit organization made up solely by volunteers serves children with life threatening illnesses or life-altering injuries in Yakima, Walla Walla and Columbia counties, making their wishes and dreams come true.
"I discussed it with my mom, she looked it up on the internet," says Cervantes. "We talked about how you don't see this in our community."
She adds, "It's just a warm feeling when you know they got what they wanted, their certain wish...If I'm chosen, we will be helping set up activities and events to help raise money for a child's wish."
The Sunnyside High School student doesn't hesitate when asked what her post-high school plans are. She has her eyes on the University of Southern California. "I would like to go to USC for two years and then advance to Harvard (to study law)." She adds that if she doesn't study law, she'd like to become a pediatrician.
Cervantes' favorite subject at SHS is biology. "Just knowing how to experiment, (form a) hypothesis, the chemicals, things like that. It's fun and exciting to learn something new. My teacher this last year made it so much fun."
Cervantes is a lifelong Sunnyside resident and one thing she admires about the community is that help is offered when needed. "There are so many people here that if you need help, they help you out no matter what. You know you can count on them.