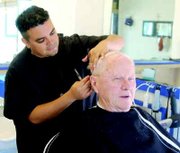 There's a new face at Larry's Barber Shop at 348 S. Sixth St. in downtown Sunnyside.
Agustin Cortes of Toppenish is now operating the barber shop. He started a couple of months ago when the shop's namesake, Larry, retired from the business.
Previously a self-employed notary public and medical translator, Cortes decided to follow his dream of becoming a barber by completing a college program in Yakima.
The Sunnyside barbershop is his first venture into the business.
"Thanks to God I found Sunnyside," Cortes says. "I like the community here. It's wonderful."
Cortes offers the typical services found at a barbershop, including haircuts and a shave. He also offers scalp massage.
Now that he's operating the Sunnyside shop, Cortes says he's considering changing the name to Blade's Barber Shop. "People call me that (Blade) because I do a straight cut with a razor blade," he said.
One of the aspects to the barbershop business is an ebb and flow in the work day, a rush of customers followed by a slowdown of a trickle of customers.
Cortes says he puts the down time to use by maintaining his equipment, keeping the shop in shape for the next customer who walks through the door.
Given the fact that the barbershop is on a street corner with plenty of window space on the world of downtown Sunnyside, Cortes said he also likes to spend time getting acquainted with the neighborhood.
"I like to meet with the people passing by on the sidewalk," Cortes says. "I like getting to know members of the community."