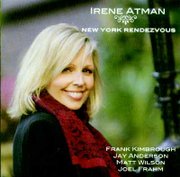 Slip into your coziest slippers and relaxing attire, grab your favorite drink for settling down, slip "New York Rendezvous" into the CD player and settle down to a relaxing evening at home.
Released in June, this musical assortment performed by renowned vocal artist Irene Atman is sure to please the senses.
Whether you are snuggling up by yourself or cuddling with the one you love, it is sure to appeal to the soul. Atman's voice strips away the stresses of the day and provides a soothing comfort with her mellow tones.
As is characteristic of jazz there is an upbeat to many of the tracks on "New York Rendezvous," but the beat is not overwhelming and doesn't jolt one out of a sense of contentment provided throughout the entire disc.
Atman lends to the music the sophistication of well-performed jazz numbers and she is bound to appeal to those who enjoy a variety of genres, as well as aficionados of classic jazz performers.
She studied piano at the Royal Conservatory of Music, and enjoyed the styles of Judy Garland, as well as Petula Clark. Her inspiration began as a small child listening to well-known artists like Tony Bennett, Frank Sinatra and Doris Day.
Ella Fitzgerald and Rosemary Clooney are credited as being great influences for Atman's vocal stylings.
She has since the age of 19 performed with Toronto, Canada's Stan Hiltz Orchestra and made her first recording with The Boss Brass.
Atman later settled in New Orleans, where she joined the historic Delta Queen Steamboat Company.
On this compilation she is accompanied by pianist Frank Kimbrough, bassist Jay Anderson, drummer Matt Wilson and saxophonist Joel Frahm.
Atman's CD can be purchased online at Amazon.com, CDBaby.com or on iTunes for as low as $8.99.
For more information about Atman or to sample the music on "New York Rendezvous," visit her website at www.Ireneatman.com.
More like this story