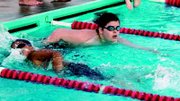 GRANDVIEW - The Sunnyside Sharks feasted on the Grandview Neptunes last night, to the tune of a 555-229 victory.
The visiting Sharks came away with first-place finishes in 52 of the 73 races.
Thursday evening's win improved the Sunnyside summer swim club's overall record on the season to 4-1. Grandview (0-4) is still in search of its first victory of the summer.
In the 15 relay races staged last night, the Sharks outscored the home team by a 60-15 margin. Each relay victory is worth five team points, no points are awarded for runner-up performances.
In the individual races, first-place finishes are worth six team points, each second-place effort is good for four team points, a third-place finish adds two points to the team total and a fourth-place performance is good for one team point.
By winning 52 of the 73 races, Sunnyside outscored the Neptunes by a 300-123 margin in first-place points. The Sharks had 40 runner-up finishes, compared to Grandview's 13 second-place efforts, to claim a 160-52 scoring advantage. Sunnyside, too, outscored Grandview 64-36 in third-place points, and by a 31-18 margin in fourth-place points.
Sunnyside's swimmers will host the Prosser Piranhas next Tuesday, July 7, then will travel to Selah on Thursday, July 9.
The Neptunes will take to the road for both their meets next Tuesday and Thursday, first at Naches and then at Prosser.
Corey Russell/Daily Sun News
As Grandview's Maurice Prieto touches the wall of the pool, Neptune teammate O'rian Blanshan pushes off to complete his leg of the boys 12&U, 160-yard freestyle relay.
Sunnyside 555 - Grandview 229
160-Yard Medley Relay
Girls 10&U
1st-Grandview (R. Colson, K. Colson, N. Oxley, J. Jimenez) 2:37.48
Girls 12&U
1st-Sunnyside (K. Banks, K. Bestebreur, P. Sample, L. Schilperoort) 2:03.14
Boys 12&U
1st-Sunnyside (C. Murphy, T. Frank, F. Rodriguez, A. Perez) 2:12.30
Girls 14&U
1st-Sunnyside (A. Newhouse, T. Van Corbach, B. Broersma, M. Marquez) 1:54.52
Boys 14&U
1st-Grandview (F. Ruiz, J. Castilleja, M. Wagner, M. Castilleja) 2:05.24
Girls 16&U
1st-Sunnyside (K. Wedam, M. Broersma, A. Martin, K. Banks) 1:45.98
Boys 16&U
1st-Sunnyside (T. Stiteler, G. Stutesman, J. Villegas, C. Vargas) 1:41.93
40-Yard Butterfly
Girls 8&U
1st-Ashlee Maldonado (S) 38.68, 2nd-Janessa Frank (S) 46.99, 3rd-Cassandra Ruiz (G) 53.96, 4th-Emily Broersma (S) 1:02.75
Boys 8&U
1st-Johnny Heffron (S) 53.81, 2nd-Parker Van de Graaf (S) 1:01.01, 3rd-Nicolas Cortez (G) 1:10.67, 4th-Luke Stutesman (S) 1:12.88
Girls 10&U
1st-Emilee Maldonado (S) 37.69, 2nd-Hunter Perez (S) 39.10, 3rd-Emily Banks (S) 39.33, 4th-Natalee Oxley (G) 39.73
Boys 10&U
1st-Maurice Prieto (G) 40.87, 2nd-Adrian Heffron (S) 43.15, 3rd-Luis Valdez (G) 44.84, 4th-Jacob Mendoza (S) 45.13
Girls 12&U
1st-Payton Sample (S) 27.28, 2nd-Lindsay Schilperoort (S) 30.79, 3rd-Hailey Walker (G) 31.77, 4th-Katelyn Banks (S) 31.87
Boys 12&U
1st-Alex Perez (S) 32.17, 2nd-Fox Rodriguez (S) 32.24, 3rd-Trajen Frank (S) 33.18, 4th-Micah Binfet (G) 33.23
Girls 14&U
1st-Brittany Broersma (S) 24.74, 2nd-Alexandra Newhouse (S) 26.04, 3rd-Tara Van Corbach (S) 27.14, 4th-Madi Marquez (S) 28.55
Boys 14&U
1st-Fabian Ruiz (G) 25.46, 2nd-Jose Castilleja (G) 25.48, 3rd-Nickolas Ramirez (S) 29.09, 4th-Ethan Partch (S) 30.70
Girls 16&U
1st-Marisa Broersma (S) 23.27, 2nd-Kristen Wedam (S) 26.39, 3rd-Tiffany Owens (G) 26.97, 4th-Alissa Martin (S) 28.04
Boys 16&U
1st-Cristian Vargas (S) 22.93, 2nd-Tim Stiteler (S) 24.86, 3rd-Grant Stutesman (S) 25.84, 4th-Dominic Garza (G) 28.74
Girls 18&U
1st-Kaitlyn Broersma (S) 23.32, 2nd-Megan Tyler (S) 26.18
Boys 18&U
1st-Spencer Blanshan (G) 23.16
40-Yard Breaststroke
Girls 8&U
1st-Janessa Frank (S) 47.05, 2nd-Ashlee Maldonado (S) 48.56, 3rd-Gentri Gray (S) 49.85, 4th-Arizona Rodriguez (S) 52.97
Boys 8&U
1st-Johnny Heffron (S) 46.78, 2nd-Luke Stutesman (S) 1:00.39, 3rd-Nicolas Cortez (G) 1:06.12, 4th-Treyton Parrish (G) 1:10.73
Girls 10&U
1st-Reagan Colson (G) 38.79, 2nd-Natalee Oxley (G) 40.06, 3rd-Emily Banks (S) 42.20, 4th-Emilee Maldonado (S) 42.95
Boys 10&U
1st-Tavian Valenzuela (G) 42.36, 2nd-Jacob Mendoza (S) 42.53, 3rd-Adrian Heffron (S) 43.14, 4th-Luis Valdez (G) 47.15
Girls 12&U
1st-Taylor Hall (G) 34.05, 2nd-Heidi Vergara (S) 34.72, 3rd-Kalie Bestebreur (S) 36.24, 4th-Payton Sample (S) 36.45
Boys 12&U
1st-Micah Binfet (G) 30.85, 2nd-Trajen Frank (S) 32.93, 3rd-Fox Rodriguez (S) 36.97, 4th-Alex Perez (S) 38.74
Girls 14&U
1st-Brittany Broersma (S) 29.13, 2nd-Tara Van Corbach (S) 31.61, 3rd-Alexandra Newhouse (S) 31.91, 4th-Tawnya Francis (G) 33.73
Boys 14&U
1st-Fabian Ruiz (G) 30.51, 2nd-Jose Castilleja (G) 31.72, 3rd-Eric Escobar (G) 38.81, 4th-Milagro Castilleja (G) 40.28
Girls 16&U
1st-Marisa Broersma (S) 27.81, 2nd-Tiffany Owens (G) 31.96, 3rd-Kristen Wedam (S) 36.84, 4th-Jenalee Mariotti (G) 38.11
Boys 16&U
1st-Cristian Vargas (S) 28.14, 2nd-Grant Stutesman (S) 29.24, 3rd-Tim Stiteler (S) 29.58, 4th-Dylan Graybeal (S) 35.92
Girls 18&U
1st-Kaitlyn Broersma (S) 26.65, 2nd-Megan Tyler (S) 32.62, 3rd-Giovani Gomez (G) 38.15
Boys 18&U
1st-Spencer Blanshan (G) 31.27
40-Yard Backstroke
Girls 8&U
1st-Janessa Frank (S) 41.66, 2nd-Ashlee Maldonado (S) 45.66, 3rd-Emily Broersma (S) 51.43, 4th-Gentri Gray (S) 53.11
Boys 8&U
1st-Parker Van de Graaf (S) 49.68, 2nd-Treyton Parrish (G) 51.71, 3rd-Johnny Heffron (S) 54.02, 4th-Clay Schilperoort (S) 58.25
Girls 10&U
1st-Natalee Oxley (G) 37.53, 2nd-Sadie Salas (S) 40.04, 3rd-Emily Banks (S) 40.42, 4th-Emilee Maldonado (S) 41.99
Boys 10&U
1st-Adrian Heffron (S) 38.70, 2nd-Patrick Zecchino (S) 42.93, 3rd-Tavian Valenzuela (G) 44.41, 4th-Skylar Gray (S) 45.17
Girls 12&U
1st-Katelyn Banks (S) 30.17, 2nd-Tiana Perez (G) 30.49, 3rd-Lindsay Schilperoort (S) 32.78, 4th-Hailey Walker (G) 34.61
Boys 12&U
1st-Trajen Frank (S) 36.74, 2nd-Alex Perez (S) 37.15, 3rd-Fox Rodriguez (S) 38.41, 4th-Christian Murphy (S) 39.02
Girls 14&U
1st-Brittany Broersma (S) 28.35, 2nd-Alexandra Newhouse (S) 32.17, 3rd-Madi Marquez (S) 32.19, 4th-Samanta Castaneda (G) 32.63
Boys 14&U
1st-Nickolas Ramirez (S) 30.08, 2nd-Fabian Ruiz (G) 30.77, 3rd-Ethan Partch (S) 35.55, 4th-Eric Escobar (G) 35.56
Girls 16&U
1st-Marisa Broersma (S) 27.76, 2nd-Alissa Martin (S) 30.14, 3rd-Tiffany Owens (G) 32.33, 4th-Jenalee Mariotti (G) 37.96
Boys 16&U
1st-Cristian Vargas (S) 25.64, 2nd-Tim Stiteler (S) 27.01, 3rd-Grant Stutesman (S) 30.87, 4th-Dylan Graybeal (S) 31.67
Girls 18&U
1st-Kaitlyn Broersma (S) 26.68, 2nd-Megan Tyler (S) 30.10, 3rd-Giovani Gomez (G) 37.05, 4th-Amanda McClean (G) 37.18
Boys 18&U
1st-Spencer Blanshan (G) 24.94
40-Yard Freestyle
Girls 8&U
1st-Janessa Frank (S) 35.17, 2nd-Ashlee Maldonado (S) 36.95, 3rd-Alexandra Partch (S) 41.43, 4th-Emily Broersma (S) 41.48
Boys 8&U
1st-Johnny Heffron (S) 41.01, 2nd-Treyton Parrish (G) 45.71, 3rd-Parker Van de Graaf (S) 46.19, 4th-Angel Morales (G) 54.45
Girls 10&U
1st-Natalee Oxley (G) 30.24, 2nd-Emilee Maldonado (S) 34.36, 3rd-Emily Banks (S) 34.75, 4th-Hunter Perez (S) 35.14
Boys 10&U
1st-Adrian Heffron (S) 26.97, 2nd-Patrick Zecchino (S) 31.80, 3rd-Maurice Prieto (G) 31.93, 4th-Carlo Rodriguez (S) 32.90
Girls 12&U
1st-Payton Sample (S) 25.49, 2nd-Hailey Walker (G) 25.94, 3rd-Tiana Perez (G) 26.10, 4th-Jordan Rodriguez (S) 28.04
Boys 12&U
1st-Micah Binfet (G) 25.81, 2nd-Alex Perez (S) 26.38, 3rd-Trajen Frank (S) 27.49, 4th-Fox Rodriguez (S) 29.62
Girls 14&U
1st-Brittany Broersma (S) 22.52, 2nd-Madi Marquez (S) 24.21, 3rd-Alexandra Newhouse (S) 24.64, 4th-Tara Van Corbach (S) 26.08
Boys 14&U
1st-Fabian Ruiz (G) 20.07, 2nd-Jose Castilleja (G) 21.24, 3rd-Cody Stiltner (S) 26.18, 4th-Nickolas Ramirez (S) 26.37
Girls 16&U
1st-Marisa Broersma (S) 21.59, 2nd-Alissa Martin (S) 24.46, 3rd-Tiffany Owens (G) 25.39, 4th-Kristen Wedam (S) 26.19
Boys 16&U
1st-Tim Stiteler (S) 20.96, 2nd-Cristian Vargas (S) 22.68, 3rd-Grant Stutesman (S) 23.02, 4th-Julian Villegas (S) 23.43
Girls 18&U
1st-Kaitlyn Broersma (S) 21.02, 2nd-Megan Tyler (S) 24.17, 3rd-Giovani Gomez (G) 24.52, 4th-Amanda McClean (G) 29.16
Boys 18&U
1st-Spencer Blanshan (G) 20.99
160-Yard Freestyle Relay
Girls 10&U
1st-Sunnyside (E. Banks, E. Maldonado, H. Perez, S. Salas) 2:23.30
Boys 10&U
1st-Sunnyside (J. Mendoza, C. Rodriguez, J. Heffron, P. Zecchino) 2:17.25
Girls 12&U
1st-Sunnyside (K. Banks, L. Schilperoort, J. Rodriguez, P. Sample) 1:55.22
Boys 12&U
1st-Sunnyside (T. Frank, F. Rodriguez, C. Murphy, A. Perez) 2:04.79
Girls 14&U
1st-Sunnyside (M. Marquez, A. Newhouse, T. Van Corbach, B. Broersma) 1:40.78
Boys 14&U
1st-Grandview (M. Wagner, F. Ruiz, M. Castilleja, J. Castilleja) 1:40.52
Girls 18&U
1st-Sunnyside (M. Broersma, A. Martin, M. Tyler, K. Broersma) 1:35.63
Boys 18&U
1st-Sunnyside (C. Vargas, J. Villegas, G. Stutesman, T. Stiteler) 1:33.38
160-Yard Individual Medley
Girls 10&U
1st-Natalee Oxley (G) 3:06.87, 2nd-Emily Banks (S) 3:11.48, 3rd-Hunter Perez (S) 3:31.45, 4th-Kylie Colson (G) 3:31.69
Boys 10&U
1st-Jacob Mendoza (S) 3:24.67, 2nd-Luis Valdez (G) 3:26.43, 3rd-Maurice Prieto (G) 3:26.58, 4th-Tavian Valenzuela (G) 3:30.29
Girls 12&U
1st-Katelyn Banks (S) 2:30.93, 2nd-Payton Sample (S) 2:35.20, 3rd-Hailey Walker (G) 2:49.19, 4th-Courtnie Cunningham (S) 2:59.29
Boys 12&U
1st-Fox Rodriguez (S) 2:40.90, 2nd-Alex Perez (S) 2:43.92, 3rd-Micah Binfet (G) 2:56.09, 4th-Christian Murphy (S) 3:00.17
Girls 14&U
1st-Brittany Broersma (S) 2:12.31, 2nd-Alexandra Newhouse (S) 2:26.42, 3rd-Madi Marquez (S) 2:27.77, 4th-Tara Van Corbach (S) 2:35.56
Boys 14&U
1st-Fabian Ruiz (G) 2:22.30, 2nd-MIlagro Castilleja (G) 3:15.95
Girls 16&U
1st-Marisa Broersma (S) 2:00.79, 2nd-Tiffany Owens (G) 2:23.14, 3rd-Kristen Wedam (S) 2:26.18, 4th-Jessica Hall (G) 2:50.81
Boys 16&U
1st-Cristian Vargas (S) 2:05.72, 2nd-Tim Stiteler (S) 2:11.65, 3rd-Grant Stutesman (S) 2:30.52, 4th-Julian Villegas (S) 2:52.16
Girls 18&U
1st-Kaitlyn Broersma (S) 2:00.48, 2nd-Megan Tyler (S) 2:25.10
Boys 18&U
1st-Spencer Blanshan (G) 2:19.53