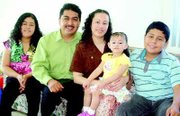 After a nine-year ministry in Coos Bay, Ore., Pastor Jorge Huerta and his family are making Sunnyside their home, where Huerta serves as the new pastor of Iglesia El Calvaria, a Spanish-language Assembly of God Church at 1810 Morgan Road.
Huerta, his wife Miriam and three children, Jocelyn, 13, Jonathan, 10, and Karen, 23 months, moved to Sunnyside about two weeks ago.
Huerta originally hails from Baja California, Mexico, where he worked 10 years as a professional photographer before answering a call to ministry.
A key moment, he says, was when a Bible institute was established in his hometown. "I wasn't going to lose that opportunity," he said.
Following Bible training, Huerta said he heard the Lord tell Him that his first pastorate would be in Oregon.
After a year of praying and waiting for direction from God, the family packed up and headed to Coos Bay in 2000 to pastor a Spanish-language church of about 30 souls.
"We didn't know where Coos Bay was and there was no salary from the church," Huerta said of the step in faith. "God provided everything for us."
While in Coos Bay, Huerta said he saw people come to the Lord at the church he pastured. Today, he says, some of those converts are now helpers in other churches. "It's a big satisfaction that this was God's plan," he said.
The Sunnyside church, he says, is an answer to prayer as his family sought a church to work with in an area with a larger Hispanic population.
Huerta was chosen for the Sunnyside post from a field that included candidates from throughout the Northwest.
He says the larger population here, as well as serving a larger church of about 70 people, will require more of him. But Huerta says he knows where to find help. "To be victorious I just need to depend on God," he said.
Huerta said the church is planning to do some outreach into the community, with a focus on families. "The foundation of a community is the family," he notes.
The aim, he says, is helping people meet Jesus.
"Our goal is to present the message of Jesus," Huerta said. "We want to give the community an opportunity to try a relationship with God. Not a religion, but a relationship with God."
As part of that goal, Huerta said bi-lingual church services are available for both Spanish and English speakers.