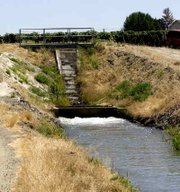 Although there isn't much to show for it on the ground, phase II of the Sunnyside Valley Irrigation Division's conservation program is quietly humming along.
Phase II of the program is beginning a littler earlier than planned, thanks to a $21.5 million grant awarded to SVID by the Bureau of Reclamation. The second phase will consist of piping nearly 65 miles of open canals.
SVID Manager Jim Trull explained to the Daily Sun News that the project will enable SVID to provide on-demand water service to landowners. At the same time the piping will help SVID conserve on water.
Trull said the consultant firm of RH2 Engineering has been hired to draw up plans for the project.
"They are designing the conservation project by preparing the specifications," Trull added. "They will also provide construction management for the project."
As part of a stipulation in President Obama's stimulus package, the funds awarded to SVID must be used by Sept. 20, 2011. This means phase II must begin by this October.
Because of the time constraints Trull said there will be two bid openings for the project. On Aug. 24 bids will be opened for materials for the project. Bids for a contractor will be opened on Aug. 28. Trull said the bids for materials will be opened sooner because he wants to make sure the materials will be available by the October start date.
SVID has also hired three new laborers to get ready for the project, although Trull did say that one of those positions filled an existing one. An engineering technician was also hired.
"We're moving along here, getting ready for the big event," Trull added.
Phase II of the SVID conservation project will consist of piping 25 miles of open canal this winter and then another 40 miles in the winter of 2010-11.