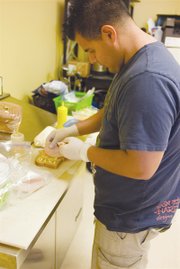 Guerra's Deli & Café in Sunnyside has expanded its empire a bit by opening Guerra's Coffee Company on South First Street right next to the Conoco gas station.
"My father saw an opportunity to open up a business," Aaron Guerra said of the new coffee shop. "It's a good location, right off the freeway. It's a great opportunity, that's why he got into it."
Guerra's Coffee Company has been open for nearly three weeks and Guerra said this time is being used to find the best hours to be open and what to serve. The crew is finding this out by trial and error.
A grand opening is planned for Friday, July 17.
Quality is being stressed at Guerra's Coffee Company. They serve coffee from Café Darte, a Seattle based company.
Café Darte has its own coffee academy and all the baristas at Guerra's Coffee Company are trained on the Seattle company's standards.
"If you make quality coffee every time you'll have repeat business," Guerra said.
He said he really wanted to bring the Seattle coffee house culture here to Sunnyside.
This is being done by concentrating on the coffee. There are different varieties for the different tastes of the customer. For instance, if a customer wants a latte then there are coffee grounds just for that. The same is true for short shots and mochas.
Guerra's Coffee Company will also partner with local businesses. They plan on offering pastries from Pepe's Bakery, Bon Vinos and Las Lupitas. Guerra believes this will only help the coffee business.
The Guerras own a deli in the mall in Sunnyside and Guerra said once business picks up at the coffee house they will begin offering deli sandwiches. They already have a very limited menu but plan to expand to roasted chicken, spiral ham or smoked turkey with bacon in the future. Soups and salads will also be served.
Guerra's Coffee Company is open Monday through Friday, from 6 a.m. to 8 p.m., and Sundays from 8 a.m. to 6 p.m. The building is also a Wi-Fi hotspot.