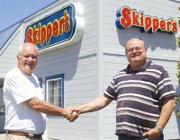 A renovated Skippers restaurant will re-open in Sunnyside, perhaps as soon as this August.
Franchisees Doug and Dorothy Waters of The Dalles, Ore. and their company, D&Dee Enterprises, is fixing up the Sunnyside eatery. It's one of six Skippers franchises the couple owns. Sunnyside is their first restaurant in Washington state.
Doug Waters said the building owner wanted to have the site become a Skippers restaurant again. The availability of a location, plus the regional draw of again having the Lower Valley's only franchise, drew Waters to re-open the eatery.
"The Lower Valley had supported this restaurant for many years and it will support it again," he said.
First, though, there's the matter of a head-to-toe refurbishing of the Sunnyside Skippers. Waters and David Rayon, who will serve as the Sunnyside franchise's general manager, have given the place a new coat of paint inside and out.
New carpeting, lighting, seating and other interior fixtures are also part of the makeover.
Waters said there have already been inquiries about the eatery, as traffic passes by the work in progress on Yakima Valley Highway.
Some, he says, are excited about the return of Skippers. Others, he adds, are looking for work. "We'll hire 20 to 25 employees for our opening," he said.
Waters figures renovations should be wrapped up in time for an Aug. 1 opening, less than a month from now.
"We're looking forward to being the Lower Valley's fish and chips place," he said.