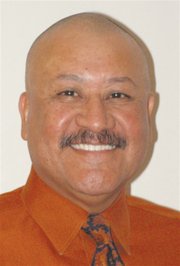 A Sunnyside native and long time resident of the Yakima Valley has been selected by the Obama administration to direct the United States Department of Agriculture's Washington State Office of Rural Development.
Mario Villanueva will take over the position in the next couple of months.
Villanueva is currently director for Catholic Charities Housing Services in Yakima, a position he has held for the past 10 years. Before that, from 1995-1999, Villanueva was the housing development coordinator for the Office of Rural and Farmworker Housing in Washington state.
According to the USDA website, Villanueva also served as housing planner for the organization when he worked on affordable agricultural housing projects that were supported by USDA Rural Development funding and other federal and state programs.
"We're pretty excited about it," Villanueva told the Daily Sun News about his appointment. "It took a while to get worked out but we're looking forward to the new assignment."
Villanueva was selected from a roster of names that were submitted by the likes of Sen. Patty Murray and Sen. Maria Cantwell. He has worked on several projects in the past with Murray and he received a lot of support from her.
In a press release issued by the Senator's office, Murray said she was very excited that President Obama selected Villanueva for the position.
"Mario Villanueva has developed close connections to Washington state communities over two decades of work helping families afford homes," she said. "For the last nine years he served at Catholic Charities Housing Services in Yakima, where he worked closely on agricultural worker housing, single-family ownership and senior housing."
Murray said that she, together with Cantwell, recommended Villanueva to the post and believes Washington state will benefit greatly from his hard work and commitment to Washington's families and communities.
Villanueva said he is excited to get started but first has a few things to take care of at Catholic Charities Housing Services before he moves on. He has lofty goals, though when he does.
"It's a great opportunity to provide great resources to rural areas," he said. "The USDA has a wonderful array of resources that are best utilized once they get out in the community. The last 23 years I've used a lot of its loan programs and housing resources to do important work."
Villanueva said his special focus will be working with the native population.
"I'm really looking forward to that," he said.
Although he's not going in with an agenda he did say he will focus on getting resources out to the community.
"It's exciting to be a part of a structure that can provided services," he added.
Villanueva said he wasn't planning on leaving his current post and calls it bittersweet that he is leaving. In the last decade Villanueva has helped bring 460 units of housing to the Yakima Valley through Catholic Charities Housing Services. He has been working on several projects and said that the new role will give him more opportunity to do good work.
"It's an opportunity for a greater impact," he said.