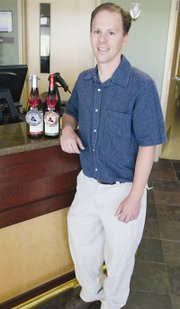 GRANDVIEW - Less than two years old and already Yakima Valley Vintners is bringing home the hardware.
The teaching winery in Grandview, part of Yakima Valley Community College, was awarded a silver and bronze medal this past June at the 2009 Central Washington State Fair Wine Competition held in Yakima.
Trent Ball, agriculture department head and viticulture and enology instructor at the teaching college, said three wines were entered into the competition but only two were awarded medals. The 2007 Syrah, the school's first red release, was awarded the bronze medal and the school's 2008 Viognier was awarded the silver medal.
"This is a great achievement for our first graduating class and it demonstrates the talent of our students," Ball said. "I am very proud of their accomplishments."
Ball said there are two sides to the teaching winery, the vineyard technology side and the winery technology side. Both sides of students take the same classes in the first year of the course and then split up in the second year where they study their fields in depth.
Ball said the students did all of the work.
"The course is really student driven," Ball said. "We guide them but they make the decisions."
For the Syrah the students crushed the berries and then fermented them in stainless steel tanks. After seven to 10 days in the tank the juice is pressed and put into barrels to age. While it was in the barrel the wine was tasted and any necessary adjustments made. After 16 months in barrels the wine was finally filtered and bottled this spring.
The Viognier never made it to the barrel, Ball said, instead maturing in the tank after a short time.
The awards coming so early in the school's history is exciting to Ball.
"I think it shows their passion," he said of his students. "It shows their potential and is a great reward for them. We're going to see some really good winemakers come out of here, I think."
Although the winery technology students do most of the work with making the wine, the vineyard technology students help out as well.
Only one student, Kat Warwick, graduated this year from the winery technology side. Other students working with the wine were George Coson, Fred Lopez, Carly Womach, Doug Eliason, Kathleen Kinkead and David Volmut.
These students will be working on three new wines to be released this fall. The three wines will be a Cabernet Sauvignon, a Lemberger and a Primitivo.