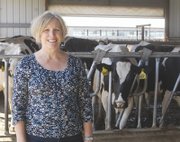 Sunnyside native Genny DeRuyter was recently appointed to the state's Dairy Products Commission.
DeRuyter was selected for the District 2 post - which represents an area that includes Yakima County - by state ag chair Dan Newhouse.
DeRuyter begins her three-year term this month and is looking forward to serving.
"I feel really honored to represent the dairy industry from District 2," said DeRuyter, who with husband Jake operates the DeRuyter Brothers Dairy on Fordyce Road.
She fills a post previously held for more than two decades by recent retiree Bob Golob.
"Bob's been the go-to person all these years," said DeRuyter. "Bob's a hard act to follow."
Even so, with 24 years of experience in the dairy industry, DeRuyter brings a strong resume to the commission.
At the dairy she is responsible for the day to day business and financial operations. She also keeps the dairy up to date on regulatory requirements that impact her family's business.
"My business experience will be a real asset," DeRuyter said of serving on the commission.
The Dairy Products Commission's chief responsibility is to promote the dairy industry and communicate, to educate the public about dairy products and the dairy industry.
The commission's work is funded privately without taxpayer dollars, DeRuyter noted.
As a member of the commission, DeRuyter hopes to help communicate the positive aspects of the dairy industry.
She notes that helping the public understand the dairy industry's environmental stewardship is "a key to the survival of the industry."
DeRuyter added, "There's a lot of misunderstanding. We need to clarify what dairy farmers do."
Tony Veiga is a longtime Sunnyside-area dairyman and heads the state's dairy federation. He's confident DeRuyter will help get the message out about dairy's positive impacts.
"I am very happy to see the governor appoint a very well qualified candidate," said Veiga. "I am happy to work alongside her as the Dairy Federation and Dairy Products Commission move forward."
While lauding Golob for his "20 wonderful years" on the commission, Veiga said it is also a positive to see other dairy owners from the Lower Valley step up to serve.
"We're happy to see people step forward and assume a leadership role on positions that are taking our industry forward," Veiga said.